Chenango Plantation
Brazosport Archaeological Society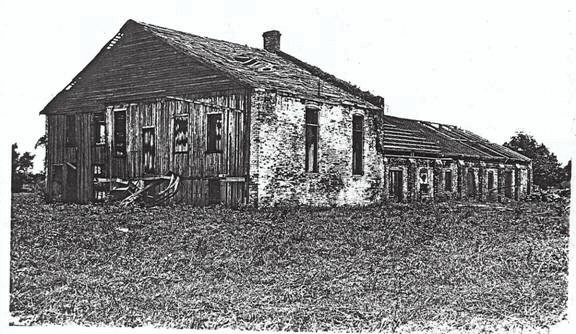 Photograph Courtesy of Brazoria County Historical Museum Library 1936
Benjamin Fort Smith moved to Brazoria County, Texas from Mississippi in 1832 and bought two tracts of land in the William Harris League east of Oyster Creek comprising ~1300 acres. Producing corn and cotton using African slaves he smuggled from Cuba he established Point Pleasant Plantation. The plantation became a way station for African slaves illegally brought from Cuba by the notorious slave smuggler Monroe Edwards who owned the plantation for a short period changing the name to Chenango according to tradition[1] In 1839 while living in Galveston, Texas James Love, noted jurist and partisan politician, acquired the property, which had grown to ~3400 acres in the William Harris, Joshua Abbott, and Stephen Richardson Leagues through the transactions of several previous owners. He and his co-investor, Albert T. Burnley of New Orleans, ran the plantation in absentia until 1852 when William H. Sharpe of Louisiana acquired Love's interest having bought Burnley's share in 1850. James Love financed and built the first sugar mill on the property 1849-1852 while William Sharpe improved the mill by adding steam power. With a slave labor force Chenango Plantation was a consistent producer of sugar during the 1850's. Sharpe developed a partnership with William J. Kyle and Benjamin F. Terry of Fort Bend County while he and his family managed Chenango through the Civil War. A mortgage foreclosure forced a public auction of the property to Henry H. Williams and John L. Darragh of Galveston in 1869. William Sharpe and his son Henry, member of Terry's Texas Rangers during the Civil War, stayed on the plantation as managers for Darragh using tenant farmers who shared in the crops. By 1881 the Williams heirs assumed total control and in 1884 sold the property to A. C. Barnes. The 1900 hurricane leveled most of the structures on the property. Various groups and land developers have purchased the property over the years. The sugar mill, the only remaining remnant of Chenango Plantation, lies in a state of ruin.
William Harris of Maine received from the Mexican Government the grant for his league of land on the east side of the Brazos River along Oyster Creek July 10, 1824. The 1826 Census of Austin's Colony listed him as a farmer and stock raiser aged between twenty five and forty. He had a wife, Ruth [2], one son and a daughter. While he was in Brazoria County in the middle 1830's he did not settle on his league of land. Early on he sold several tracts from the league.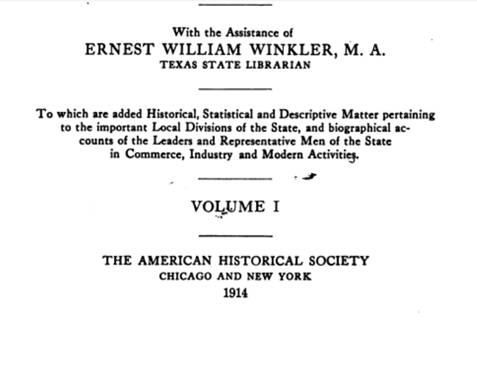 Texas General Land Office 1879
(Chenango Station on the International & Great Northern Railway is not Chenango Plantation)
Benjamin Fort Smith [3] of Hinds County Mississippi moved to Texas in late 1832 and became a citizen in 1833. Benjamin F. Smith acquired ~600 acres previous to 1835 and January 1835 he bought another 781 acres south of his original tract from Jared E. Groce [Brazoria County Deed Record [4] C: 207/08]. Benjamin F. Smith would make this ~1300 acres his home, Point Pleasant Plantation.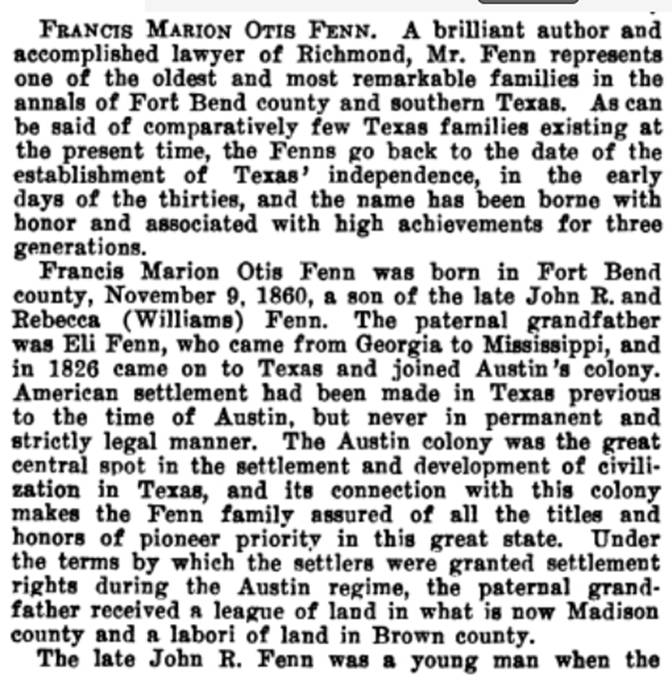 Eastern Portion of the William Harris League, Abstract 71
His sister Sarah David [5] married Joseph R. Terry in Kentucky April 17, 1816. Sarah and Joseph Terry reportedly separated about 1833 because of Joseph's insistence on running a gambling house in Jackson, Mississippi. She accepted her brother, Benjamin's proposal to bring her children, move to Texas and reside on his plantation.
In the winter of 1833-34 Benjamin F. Smith made a trip to Cuba to procure African slaves to work his lands. Though the importation of slaves from Africa was illegal, his vessel landed at Edwards' Point on Galveston Bay. While making his way from Galveston Bay to his plantation Smith became lost and approached the home of Dr. Pleasant W. Rose ~25miles north of his home:
February, 1834
One cold day we could see in the direction of Galveston Bay a large crowd of people. They were coming to our house…When they got near our house there were three white men and a large gang of negroes. One man came in and introduced himself as Ben Fort Smith. He said he lived near Major Bingham's, and that he was lost and nearly starved. He asked father to let him have two beeves and some bread…One man made a fire near some trees, away from the house. As soon as the beeves were skinned the negroes acted like dogs, they were so hungry. With the help of father and uncle, the white men kept them off till the meat was broiled, and then did not let them eat as much as they could eat. After dinner, Mr. Smith explained to father how he came to be lost on the prairie…The negroes were so enfeebled from close confinement that they could not travel. He rested one day, and would have reached home the next night if he had not got lost Uncle James guarded the negroes. They did not need watching, for after dark they went to sleep and did not wake till morning. They were so destitute of clothing, mother would not permit us children to go near them. Next day they cooked their meat before they began eating.
…After three or four days, he (Harvey Stafford) and Frank (Terry) [6] returned. Mr. Smith's body servant, Mack, came with them and brought a wagon and team and clothing for the negroes. Mack made them go to the creek, bathe, and card their heads. After they were dressed, he marched them to the house for mother and us little girls to see…They did not understand a word of English. All the men and boys in the neighborhood came to see the wild Africans.
…He (Ben F. Smith) had a large scaffold built over a trench and made fire under it. He butchered the beeves and dried meat over the fire. After a few days he sent Frank Terry and Mack home with the negroes…[7]
During the revolution Benjamin F. Smith participated in hostilities at Gonzales and the siege of Bexar. In November 1835 he left Texas to recruit in Mississippi. Returning in March 1836 he reentered the army as a private and fought in Henry W. Karnes' cavalry company at San Jacinto. August 1, 1836 he submitted his resignation to General Thomas Rusk which was accepted:
1 August 1836 Camp Coletto
… cannot permit this occasion to pass without expressing to you my entire approbation of your official conduct as well as of your Brave and Chivalrous bearing before the enemy on the plains of San Jacinto…
General Thomas J. Rusk [8]
September 1836 Monroe Edwards bought the plantation, 17 African slaves, and the cotton & corn crop for $35,000 from Benjamin F. Smith [BCDR A: 23/24]. Smith moved to Houston, where he built a hotel early in 1837 while his sister Sarah Terry and her children had previously moved north to a tract of land in the McFarland League to establish her plantation.
Monroe Edwards [9] was born in Danville, Kentucky. Financial reverses in Kentucky caused his father Amos Edwards to move his family to Redfish Bar, later Edwards Point, on the west side of Galveston Bay in ~1828-1830 [10. James Morgan visited Texas in 1830 [11]; he and his partner John Reed of New Orleans moved to Texas in 1831 and established a business at Anahuac on Galveston Bay [12]. Monroe's clerkship with Morgan at Anahuac helped him learn the means to establish credit, and how to buy and sell cotton on consignment, talents that would later develop in the hands of a swindler. The Mexican authorities imprisoned him with William Barrett Travis, Patrick C. Jack, and others in 1832 at Fort Anahuac [13]. This disturbance led to the Battle of Velasco at the mouth of the Brazos River in June 1832 [14].
After the death of his father in 1832, the lucrative slave trade caught the attention of Monroe Edwards and in the spring of 1833 he and his partner Holcroft of New Orleans landed a shipment of African slaves at Edwards Point. At this time Edwards' brother-in-law Ritson [15] Morris lived at Edwards Point. They had purchased 196 African slaves at $25 each and sold them for $600 each, realizing a profit of more than $100,000. The event was acknowledged by the Convention of 1833. The convention noted that a vessel had arrived in Galveston Bay, "direct from the island of Cuba laden with negroes recently from the African coast," the convention resolved that, "we do hold in utter abhorrence all participation, whether direct or indirect, in the African Slave Trade; that we do concur the general indignation which has been manifested throughout the civilized world against that inhuman and unprincipled traffic; and we do therefore earnestly recommend to our constituents, the good people of Texas, that they will not only abstain from all concern in that abominable traffic, but that they will unite their efforts to prevent the evil from polluting our shores; and will aid and sustain the civil authorities in detecting and punishing any similar attempt for the future." [16] Slaves could easily be purchased for $200 or less in Cuba and sold for $600-800 in Texas. Several "good" citizens of Brazoria County including General James Fannin [17], Sterling McNeel [18], and Benjamin Fort Smith along with Monroe Edwards continued to smuggle slaves into the county. A second cargo landed at Edwards Point in February 1834. This group of slaves was the same slaves previously mentioned owned by Benjamin F. Smith [19].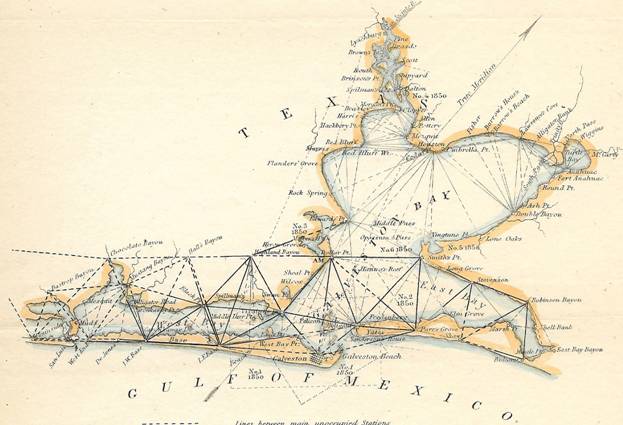 1848-1850 Coastal Survey Galveston Bay Author's Collection
On March 2, 1836 the customs collector at Velasco, William S. Fisher, wrote Provisional Governor Smith:
The schooner Shenandoah entered this port on the 28th ult. and proceeded up the river, without reporting. I immediately pursued her… We overhauled the vessel that night, and found that the negroes had been landed –the negroes were, however, found during the night. The negroes I have given up to Mr. Edwards (the owner) on his giving bond and security to the amount of their value, to be held subject to the decision of the government. Sterling McNeal landed a cargo of negroes (Africans) on the coast . I endeavored to seize the vessel but was unsuccessful. This traffic in African Negroes is increasing daily…The number of negroes landed from the Shenandoah is 170[20]
The schooner Dart [21] sailed into Galveston Bay in March 1836 with 90 African slaves from Cuba. These were delivered to Ritson Morris, bringing to 122 the number of Negroes in his care. Shortly before the Battle of San Jacinto, at the approach of the Mexican army, the Texas war schooner Flash removed most of the slaves to Galveston Island. Two of these Africans were taken as far as Nacogdoches during this time as Morris advanced a claim to two Africans that had been held there, alleging that they, together with 120 more had been left in his charge by Monroe Edwards [22].
Monroe Edwards had slaves scattered from the San Bernard River to Galveston Bay. William Fairfax Gray traveling through Texas arrived at Mr. Earle's home March 25, 1836 and noted:
…He has staying with him four young African Negroes, two males, two females. They were brought here from the West Indies by a Mr. Monroe Edwards. They are evidently native Africans, for they can speak not a word of English, French or Spanish. They look mild, gentle, docile, and have never been used to labor. They are delicately formed; the females in particular have straight, slender figures, and delicate arms and hands. They have the thick lips and negro features, and although understanding not a word of English, are quick of apprehension; have good ears, and repeat words that are spoken to them with remarkable accuracy…Their habits are beastly [23]. Captain Robert J. Calder, writing of his trek from San Jacinto battlefield to Galveston to notify the inhabitants that Santa Anna had been defeated noted:
The party reached the Edwards place at "Red Fish Bar" about noon of the third day. Here they found some provisions and a box of fine Havana cigars. The only living thing they saw was a wild African negro, probably one introduced by Monroe Edwards. [24].
William F. Gray visited the home of Edwards on Galveston Bay April 30, 1836:
…Ran into a cove near Clear Creek, and landed at the home of Mr. Edwards, where we found Ashmore Edwards and his brother-in- law, Ritson Morris (Jaw Bone M.), a Mr. Aldridge, and Mr. Stanley…Edwards is the nephew of Colonel Edwards of Nacogdoches, and the brother of Monroe Edwards, who imported the Guinea Negroes from Cuba about a month ago. About fifty of those poor wretches are now here, living out doors, like cattle. They are all young, the oldest not 25, the youngest, perhaps, not more than 10; boys and girls huddled together. They are diminutive, feeble, spare, squalid, nasty, and beastly in habits. Very few exhibit traits of intellect. None seem ever to have been accustomed to work…One girl sat apart and held no converse with the crowd. She is said to belong to a different tribe from any of the rest, and to stand her dignity. There is a boy also among them, about 14 or 15, a runt, who is acknowledged to be a prince, and deference is shown him. He claims the prerogative of five wives, and flogs them at his pleasure. They are mostly cheerful, sing and dance of [at] nights; wear caps and blankets; will not wear close clothes willingly; some go stark naked. A beef was killed at Morris' home, 100 yards from Edwards', and the Africans wrangle and fought for the garbage like dogs or vultures; they saved all the blood they could get, in gourds, and feed on it. An old American negro stood over the beef with a whip, and lashed them off like so many doge to prevent their pulling the raw meat to pieces. This is the nearest approach to cannibalism that I have ever seen.
Morris' family have gone to the United States in the Koscuisko [25].
After the defeat of Santa Anna two groups of Monroe Edwards' slaves and Ashmore Edwards returned via the schooner Koscuisko in an agreement with its captain James Spilman with 40 returned from the mouth of the Sabine and 54 from Point Bolivar. The $440 charged for the passage of the slaves and Ashmore Edwards from New Orleans would not be paid quickly by Monroe and would strain his relationship with James Morgan [26].
The slaves landed in February 1836 by Monroe Edwards had been funded in partnership with Christopher Dart of Natchez, Mississippi. In a suit George Knight & Co. vs. Monroe Edwards it was stipulated that "December 1835 money was advanced for the purpose of buying slaves in Cuba to be introduced into Texas and for the purchasing of Cannon for the Government of Texas the last of which cost five hundred dollars… The negroes left Cuba in the winter of 1835-36, and arrived in Texas before the second day of March 1836…The demand charged is admitted by the plaintiffs, and their fifteen hundred dollars were used by Edwards for his intentional benefit" [27]. In a deposition by John E. Sumner of New Orleans for the suit George Knight, Lambreto Fernandez and John Emilius Brylle [28] vs. Monroe Edwards it was stipulated that Edwards pledged he was to receive mortgage money from the firm of McKinney and Williams of Galveston for $500 per slave to pay the debt promptly and return to Cuba to purchase another group of slaves in a short period of time. Benjamin M. Steadman of Vickburg also gave a deposition stating that Edwards and Dart had arrived December 1835 in Havana with ~$50,000 in cash and financed the purchase of 188 slaves at $357 each for a total of $67,116. Additional funds were needed for aiding Monroe Edwards to purchase "Brass cannon, Gun Powder, Cannon Balls, a Jolly boat, fuel, Peas, Beans, Grain, Bananas Oranges…& in saving Monroe Edwards from prison…" [29] The slaves left Havana on the 17th and arrived the 28th of February. Having received Power of Attorney from Monroe Edwards May 16, 1836 in the city of Natchez, August 29, 1836 Christopher Dart signed a note for $35,410 with George Knight & Co. to cover the purchase of these slaves [30]. In return, Edwards signed ½ ownership of his property and Negroes in the Republic of Texas to Dart April 18, 1837 in New Orleans [31].
In September 1836 using funds from the sale of his African slaves as down payment, Monroe Edwards purchased the Chenango Plantation from B. F. Smith's and on the same day he also purchased a plantation containing a quarter league on the San Bernard for $5000 from Edwin Waller.
[32]
The next day he purchased the Jesse Thompson League less 622 acres on the San Bernard from Columbus Patton for $20,000 [BCDR C: 75/76]. Several more tracts were bought in co-ownership with Peyton R. Splane in other counties in March 1837 [BCDR C: 164/67].
By this time Monroe Edwards was quite a figure in Brazoria County. November 1836 Mary Jane Harris was a passenger with her grandfather on the Julius Ceasar which landed at Quintana. Staying at a two story boarding house she peeped through a wide crack in the partition wall and watched Edwards as he sat at a table eating enormous quantities of baked sweet potatoes. She noted his rich and gaudy attire, his flashing diamonds, and his gaily caparisoned horse. [33] Edwards not only sold slaves but leased them out for terms. Peyton and Ann D. W. Splane contracted to split their cotton crop on "Gin Place" on the west bank of the Brazos River with Edwards furnishing 20 slaves, ½ the teams, and ½ all other expenses for the year 1837 [34].
At this time according to Brazoria County tax records for 1837 & 1838 Monroe Edwards owned:
4404 acres On Galveston Bay (His father's league) $23,320
4000 acres On Bernardo (Jesse Thompson League) $20,000
1111 acres On Bernardo (Bought from Edwin Waller) $5,555
800 acres Cedar Lake $4,000
1600 acres On Brazos (Possible Chenango?) $8,000
92 Negroes $73,600
200 Head Cattle
8 Oxen
2 Horses
1 mule
Total value $139,500
Although Abner Strobel claimed: "He was kind and generous to his slaves, and they all thought kindly of him, and thought there was no one his equal…[35]" the record seems to prove the contrary. Monroe Edwards was indicted by a grand jury investigating thefts by slaves. The Negroes were not censured, but Edwards was accused of their maltreatment:
Republic of Texas District Court
County of Brazoria Spring Term 1838
We the Grand Jurors upon our oath present, that the Negroes of Monroe Edwards have for some time past been guilty of numerous thefts, in the neighborhood of Columbia, and that from circumstances within our knowledge we believe that they have been impelled to such conduct from want of sufficient food and such treatment as common humanity requires should be extended to slaves, we therefore present the subject taken in consideration of the court [36]
In December 1837, Monroe Edwards decided to make plans for a trip to Europe. While traveling Edwards would leave his brother Ashmore in charge of his business. Being a prominent and highly respected plantation owner, and a man with elevated standards, Monroe intended to see the continent first class.
Edwards would need a considerable amount of cash. In addition to the revenues generated by slave sales and leases he liquidated some of his land holdings by selling his interest in the Jesse Thompson League to William B. P. Gaines for $40,000 which was a nice profit in just over a year's time. Additionally he sold him an undivided 15th in the town of San Bernardo [37] for $5000 cash. This town was to be located on the east bank of the San Bernard in the Jesse Thompson League [38]
As a preliminary to his voyage, he took a trip to Washington. There the minister of the Republic of Texas to the United States agreed to help him. The minister obtained letters from some of the most outstanding men in the country introducing Monroe Edwards to high statesmen and noblemen of England. Monroefelt the need of a military title to lend dignity and weight to his reputation. Upon arriving on the continent he would choose the title of Colonel and began portraying a hero of the Battle of San Jacinto for his interested new acquaintances.[39]
Before leaving, however, in New York City his past started to catch up to him for a while as he was accosted by J.P. Austin, a collector for the owners of the Koscuisko who Edwards had still neglected to pay. James Morgan had tried on several occasions to collect this debt and finally forwarded it to the owners of the vessel in New York. Monroe Edwards was irate with Morgan and wrote him an "insulting" letter from the Astor House in New York Cit, May 17, 1838. In Morgan's reply he denied any "malice-envy-nor persecution" on his part but that this was "business" and that since Edwards had not tried to make payment it was out of his hands [40].
While Monroe Edwards was in Europe the note to George Knight & Co. had become due and Christopher Dart was left owing the note. He came to Texas and brought suit against Edwards and began to try to collect debts owed their partnership. On Edwards return he hired John C. Watrous, who had only recently retired as the Attorney General of the Republic of Texas and John W. Harris, outstanding Brazoria lawyer, to defend his claims.
Christopher Dart agreed to 5% on the amount of the judgment if satisfied in his favor to hire his attorneys William H. Jack, Patrick C. Jack, and Robert J. Townes using 10 slaves as collateral, August 18, 1838. Ten slaves were made part of a mortgage: Alfred (hired to F. W. Sawyer), Kitty (hired to Theodore Bennet) Prince, Juqua, Jock, Bob, Manola, Gasha, Ego and Charley.[41] The 1st of November Dart mortgaged all the slaves (91) that were in Edwards possession as well as turning over all the debts owed to Edwards to George Knight & Co. to secure his $35410 note.[42]
Public sympathy seemed to be on Monroe Edwards' side. Those suspicious about Monroe remembered a court suit brought by Robert Peebles in June 2, 1837, concerning an African slave named Fagbo. Peebles, incredible as it seems, had bought a slave boy named Fagbo from Edwards for $1200, without having seen the boy. When Peebles' overseer received the slave, he discovered that he was dying of pulmonary consumption and was unable to do any sort of work. Peebles charged that Fagbo had consumption at the time of the sale and was "afflicted with a disease in its nature incurable…that the slave has been valueless ever since the purchase and that in nursing and attending the slave" [43] he had incurred an additional expense of $100. Edwards had certified that the boy was in perfect health, and this certification of that condition was introduced in evidence in the trial. Dr. James B. Miller, who was called in to examine Fagbo, acknowledged that his illness was fatal. The court gave Peebles a judgment of $1,200 plus interest from the date of sale.[44]
By the 1839 tax records it was evident that most of Monroe Edwards' assets had been liquidated or held separate. The record is listed under Dart & Edwards with 1107 acres of land, 97 Negroes, and 200 head of cattle for a total worth $76,235. [45]
At his trial March 1839 in Brazoria a bill of sale signed by Christopher Dart for his interest in the slaves and property was produced which was proved to be a forgery. A letter written by Christopher Dart had the body of the letter chemically removed and the bill of sale inserted with Dart's original signature [46]. Edwards was indicted for the capital offense of forgery but was able to post bond and flee Texas with two of his young slaves, Kitty Clover and her brother Henry [47] Their description by another stated "They strongly resembled each other, both having the Congo mark on their cheeks (three perpendicular marks on each side of about two inches in length), they both were very dark, with strong negro features." [48] Riding on horseback they proceeded by way of Nacogdoches before crossing into Louisiana [49]
In June 1839 James Treat in New York wrote to James Morgan including a passage about Edwards in his lengthy letter:
…You shall know all about Edwards suit, in my P S. It is not very improbable that he will get away from Jail. Jim Prentiss I have but little communion with and Willis Hall is now the Attorney General of the State and of course a very great man. I see but little of him now. I have apprised Henderson about this Edwards affair & c. and also Sam S. & Judge W. came to apprize me of Edwards arrest, and put me on my guard about writing to him & c. a pretty good joke indeed & Judge W. moreover told me he never like the man E. & ___ not be seen in the street with him even in Paris. A pretty fair story don't you think so?—I told Gen Hamilton of it a week since in Phila He had not then heard of it…[50]
Upon arriving in Mississippi Edwards was arrested for the illegal introduction of the two slaves into the United States, and held to bail, and upon trial was fined $1500, which was subsequently remitted by President Van Buren. [51]
Christopher Dart won his civil suit, April 2, 1840 and was awarded $89,088 with 5% interest from April 1, 1840 subject to debts against and amounts due their partnership, Edwards would be enjoined from selling or conveying any of the property of said firm, and their partnership would be dissolved [52]. Dart would die before the transactions would be complete and his widow, Catherine B. would be made part of the judgment [53].
Reaching New Orleans Kitty was put aboard a ship to Liverpool England with two Spaniards with whom he had done business with on his last shipment of slaves. These men were to be witnesses concerning the slaves which had been smuggled into Texas [54]
May 1840 Monroe Edwards wrote from New Orleans to President Mirabeau Lamar pleading his innocence in the form of a veiled threat: …Said African negros were imposed on me as slaves for life, when in fact they are only apprentices for five years. I was not fully in possession of the facts …said negros are of that description known at Havana as (Amancipados) freed, being captured by a British man of war& brought in as a prize…The facts of the whole case have already been forwarded Her Majesty's Ministers…I was the innocent instrument of bringing these Africans to Texas, and I am only doing my duty…[55] This letter and a similar one to Sam Houston imply that he might have been trying to use his slaves as a wedge between the Texas and English governments to possibly hinder the successful negotiations for the Texan loan which was currently being pursued by James Hamilton Envoy of the Republic of Texas.
Monroe Edwards and Henry traveled up the Mississippi to Cincinnati Ohio where he began negotiations with the abolitionist community. An article published in the local newspaper proclaimed that Monroe Edwards, Esq., of Iberville, Louisiana had emancipated 163 slaves at Cincinnati. Through this bogus article probably written by Edwards he was able to negotiate a loan and proceed to New York [56]
Writing several letters to Lewis Tappan, a noted abolitionist in New York state, Edwards attempted to raise cash for his trip to England [57]:
City Hotel, June 27, 1840
LEWIS TAPPAN, Esq.
…I this morning commenced a circumstantial narrationof all the facts connected with the 200 Africans now in Texas, upon whose liberation I am determined to hazard every thing. I this morning made an effort through a friend to raise ten per cent of its value upon some valuable real estate that I own in the city of Mobile, …suggested a plan which if it meets the approbation of the friends of universal emancipation here will enable me to visit England…The plan is to raise $5,000 on property in Mobile worth $50,000…I have been led to believe that there are gentlemen here who are zealous in the cause I have now embarked in…I expect their co-operation to enable me to carry out what to me is now the paramount object of my life…My unalterable determination now is to go to England and in person represent the facts of this peculiar case…[58]
Lewis Tappan, however, was very skeptical of Edwards' claims and found the legal documents of Edwards recorded in Ohio emancipated only two slaves, one in New Orleans and the other in Cincinnati, Kitty and Henry. [59] Edwards, however, obtained another loan and proceeded to England 1st of November from Boston along with Henry and Col. J. S. Winfree (gambler). [60]
Arriving in London Edwards presented a letter of introduction from no less that Daniel Webster to Lord Earl Spencer. This letter obtained a loan of £250 which, of course, was not recovered:
Marshfield, Oct. 29th, 1840
My Lord,
I have taken the liberty to introduce to the honor of your acquaintance, my valued friend Col. M. Edwards, a highly respectable and wealthy planter of Louisiana, who visits England with the view of conferring with H.M. Gov't. on the subject of 200 African captives, now illegally held as slaves in Texas…he with a magnanimity before unknown, attempted their restoration to freedom, by sending them to an English Colony, but was prevented from doing so by the direct interposition of the Gov't. of Texas…
Any service it may be in your Lordship's power to render Col. Edwards in promotion of his most praiseworthy object, will be properly appreciated…[61]
Lord Spencer wrote to Daniel Webster warning him of Edwards's exploits and Webster published a letter warning the public:
…The accompanying letter, purporting to be written by me, is an entire forgery.
Of this Edwards I had some previous knowledge, as he attempted similar frauds, some time ago, upon the late President of the United States, and my predecessor in the Department of State….[62]
In London James Hamilton found it necessary to expose Edwards:
No. 15 Cockspur Street London November 23, 1840
Sir: I have just been informed by Mr. Stevenson that you have presented to him a letter of introduction, asking his good offices, from the secretary of state of the United States, and that you have a similar letter to General Cass, the American minister at Paris. I beg leave to inform you that I have apprized Mr. Stevenson that you are a fugitive from the public justice of Texas, charged with the commission of an infamous crime. I shall feel it my duty to make a similar communication to General Cass.
I likewise understand that you propose making an application to Lord Palmerston for the aid of her majesty's government for the purpose of subserving some alleged objects of public justice in Texas . As the representative of the Republic of Texas in Britain, I shall not fail to advise Lord Palmerston of the facts which I have communicated to the representatives of the United States at Paris and London.
I hope you will spare me the pain and necessity of a more detailed and public statement of your recent history in Texas.
I remain your obedient servant,
J. Hamilton, Envoy of the Republic of Texas [63]
James Morgan heard from his friend Samuel Swartout shortly after, acknowledging that Monroe Edwards had left England and was headed to France:
London
31 March 1841
…I heard yesterday that Col Monroe Edwards had left England 6 or 8 weeks ago, after having borrowed about 500£ from his landlord at Long's Hotel & then forged a receipt to his Bill of upwards of 100£ to impose upon others—With these outfits he made his way for France; it is reputed he has got into some similar scrape & is now in jail—But for God's sake don't say you hear this from me--Keep my name out of the question. Say if you speak of it that you recd the news by way of N. York—I dare say you'l have accounts of his conduct, as plenty as black [berries]…[64]
Monroe had left England putting Kitty, who was now pregnant [65], on a ship back to the east coast with Col. Winfree and Mary Moore (celebrated courtesan to put it nicely) while he went on to France.[66] Henry was put in school in England. As France also became too uncomfortable he joined them in New York. He and Kitty, who now had a child, moved to Philadelphia Pennsylvania Here he developed a most remarkable scheme of deception to defraud Brown Brothers & Co. and Fletcher Alexander & Co. of New York City for over $25,000 each. By forging letters of credit from Maunsell, White & Co. of New Orleans he established his new identity John P. Caldwell. Caldwell had more than one thousand bales of cotton worth at least fifty thousand dollars in the hands of Maunsell, White & Co., that any advance predicated on such cotton would be perfectly safe, he and his family were amongst the very few planters of Louisiana who were entirely free from debt, he was solvent and a very wealthy gentleman, and requested that if it would suit their convenience they had authorized him to draw on them for not more than thirty thousand dollars. This rues was perpetrated at both brokerage houses in August and September 1841. [67] After the fraud was discovered a $10,000 reward was posted by Edgar Corrie, Jr. and Brown, Brothers & Co.:
Whereas a person representing himself to be John P. Caldwell, has by means of forged letters of credit obtained upwards of $25,000 from each of the subscribers, notice is hereby given that the above reward will be paid on recovery of the money, or in proportion for any part of the same. [68]
As the heat was on Monroe Edwards had an associate, Alexander Powell, who he tried to pin the fraud upon by sending the authorities a letter identifying him as someone of interest. Powell was to sail fromBoston toEurope but was delayed and the authorities accosted him. The hand writing on the letter was Edwards' which he recognized. The police were informed that Monroe Edwards was their man and perhaps where to find him.[69] Edwards had been delayed a day inPhiladelphia trying to provide funds for Kitty while he would be traveling to the South. OnOctober 2, 1841 he was arrested and his baggage confiscated. The first trunk opened contained in bank notes and gold, $44, 054.03. The second trunk had nothing and the third:
One of Colt's revolving pistols 1 money belt
14 pair of pantaloons 1 pair of suspenders
1 bottle of hair dye 1 napkin
4 vests 1 bundle of type
3 coats 1 bundle of stamps
1 cloak 1 pair bullet moulds
1 blouse 1 box of cologne
1 stomach pump 1 powder box containing powder & bullets
1 book
The stamps were most incriminating since one had "La." and "PAID". The next trunk contained:
16 shirts 1 stamp
16 handkerchiefs letters M. E.
1 pair of kid gloves 1 seal with coat of arms
1 blue sash 4 vests
1 bag gold watch & chain
4 pair boots pair of spectacles with blue glasses
Another item of interest was a forged draft on Brown Brothers & Co. datedMay 31, 1840 for £623 sterling which was used to pay his tailor inParis.[70]
Far fromTexas, Monroe Edwards had lost his fortune, friends, and freedom. While he languished in jail even the faithful Kitty Clover deserted him. Converted by a religious denomination of so-called saints, she was convinced that she would suffer damnation if she sent a single word of sympathy to her master. Edwards never heard from her after that time.[71]
Monroe Edwards was caught almost red handed but retained some of the most respected lawyers on the east coast for his defense, U. S. Senator J. J. Crittenden and Congressman Thomas F. Marshall[72] both of Kentucky among them. His trial commenced onJune 6, 1842 inNew York amid an almost circus atmosphere. The court was completely packed and overflowing each day of the trial often with over a 100 young ladies wishing to see the infamous Colonel Monroe Edwards. Neatly attired Edwards entered the courtroom each day nonchalantly as if the proceedings around him had little to do with him and confident in their outcome.[73]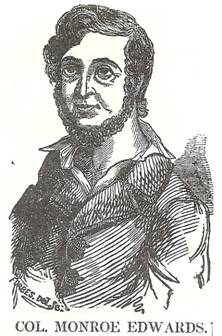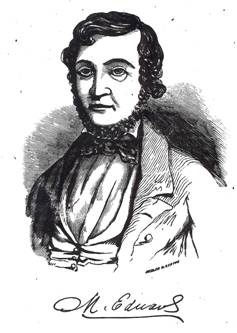 As He Appeared at Trial in 1842 by Two Different Lithographers[74]
Most of Monroe Edwards' defense stemmed from tampered hotel ledgers in cities on the same dates he was to have been instigating the fraud. A surprise deposition was given by Caroline Phillips, 18 years of age, who professed to be Edwards' fiancée that he had a large quantity of cash in hand before the dates of the fraud. The prosecution had eye witnesses to Mr. Edwards and Mr. Caldwell being one in the same person, hand writing comparisons, and a clerk who actually marked one of the bags of money given to Mr. Caldwell. This bag was found in one of Edwards' trunks. Another piece of evidence was the peculiarity in the spelling of the word "few". In the forged letter signed Maunsell, White & Co. to Messrs. Brown Brothers & Co. this word is spelt "feu". The same peculiarity was found in three letters written by Monroe Edwards to his friends. All of this in addition to the large amount of cash from an unknown origin.[75]
June 13, 1842 Monroe Edwards was found guilty of two counts of forgery in the third degree. He was sentenced by JudgeKent to five years for each count. Edwards was sent to the state prison at Sing Sing. After trying several escape attempts he was severely beaten by his guards and died 1847 of Tuberculosis. His epitaph as put by Abner Strobel: "Thus ended the career of a man who was gifted in many ways and should have devoted his talents to nobler purposes."[76] (See Appendix G for article on Monroe Edwards by Mary Beth Jones).
When Monroe Edwards had skipped out of Texas in 1839 he owed many but left Christopher Dart without title to the Chenango Plantation since his court suit froze Edwards' assets as of April 18, 1837 [BCDR A: 96]. He had actually sold the plantation to Warren D. C. Hall[77] for $35,500 just days after he purchased it September 1836 [BCDR A: 96]. Warren D. C. Hall quickly sold the property to Vincent A. Drouillard for $40,000 the next month [BCDR A: 1/2]. September 16, 1837 Benjamin Fort Smith ran an advertisement in the Telegraph and Texas Register for the public sale of his previous property and African slaves indicating he had not been paid his latest installment of $18,000. Monroe Edwards's true involvement with the original transaction became apparent as he included the following with the advertisement:
"As my name is necessarily used in the foregoing adv., and as the conclusion would naturally be that I am embarrassed or unable to pay my debts, in explanation…I will remark that in the purchase of the above named property I acted merely as the nominal purchaser of one Warren D. C. Hall; the personage and the property itself being bound for the amount due thereon.Columbia, Sept. 12, 1837."
M. EDWARDS
Vincent Drouillard purchased 600 acres just east of the plantation from Joshua Abbott [BCDR A: 66/67] and shortly thereafter sold all his holdings to William Jarvis Russell[78] for $66,940 December 1836 [BCDR A: 68/70]. Russell added another 1200 acres purchased from William Christy ofNew Orleans which was just north of the plantation in the Stephen Richardson League [BCDR A: 67]. The size of the plantation increased to ~3400 acres. William J. Russell lived on the property but was plagued by debts for which he was unable to generate cash to pay. He was forced to sell in 1839 to James Love ofGalveston for ~$72,000 with Love picking up $52,000 of Russell's debt included in the price. This entitled Love to the ~3400 acres of land, 18 slaves from Russell's original purchase and another group of 8 Negro women with their children which Russell had purchased from Monroe Edwards although they were subject to litigation [BCDR C: 300/03].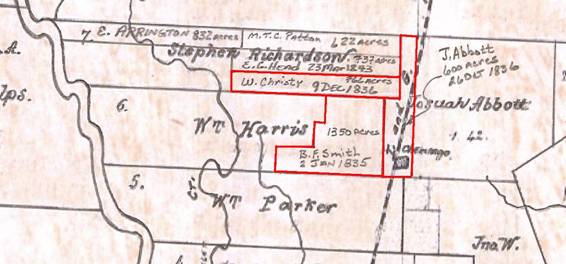 Tracts of Land Making Chenango Plantation
James Love[79], jurist and partisan politician, moved toGalveston in 1838. He was a small, thin man, with a wrinkled face, always meticulously and fashionably attired and coifed. As William Pitt Ballinger recalled, "his voice was shrill, sharp & unpleasant, and he had not a single grace of oratory. But when he spoke, he always had interested & attentive listeners. Underneath this curious exterior was a gigantic intellect."[80] His intellect told him that he needed to generate enough cash to keep his plantation afloat under his present mortgage. He sold half interest in his holdings, which he called Parker's Point Plantation, to Albert Triplett Burnley[81] of Galveston for $25,000 in July 1841 [BCDR B: 534]. Harriet Head, widow of E. G. Head, sold her 740 acre tract just north of Love's current holdings in the Stephen Richardson League to Love March 1843.By June 1844 he consolidated his debts into one mortgage with Robert and David G. Mills ofGalveston for $22,328 secured by his half share. This sequence of refinance was essential to Love in order to acquire operating capital to keep the cotton plantation producing. The cotton crop itself was usually consigned to the mortgage broker so that their payments would be paid first. April 1846 he again refinanced through Nathaniel Ware ofMississippi for $15,531 [BCDR D: 139/41]. Using this capital he was able to pay off his mortgage with the Mills brothers and close out another mortgage which R. H. Chinn. While Love had reduced his debt significantly Albert T. Burnley mortgaged his half interest to Frederick Hath & Company ofLondon,England for $36910 in May 1848 [BCDR D: 601/04].
Tax records indicate that by 1849 there were 74 slaves, 30 horses, and 1300 head of cattle on the plantation. February 1849 James Love contracted with Rice, Adams & Company[82] ofGalveston to supply funds "for the purchase of machinery for making sugar to be propelled by horse power and the necessary materials for the erection a sugar house on said plantation to be built of wood and drafts not to exceed $4000…" [BCDR E: 115/19 & 119/21]. This mortgage also was needed to help pay the interest on the mortgage which he had with Nathaniel Ware.
December 1850 Albert T. Burnley sold out his half share to William Sharpe ofLouisiana for $25,000. William Sharpe would reside on the plantation while being a partner with James Love. According to the 1850 Agricultural Census Love had 650 improved acres with $6500 of farm machinery. He had 8 horses, 48 mules, 40 milch cows, 60 oxen, 1200 head of cattle, 12 sheep, and 200 swine on the property. The plantation produced 4000 bushels of corn, 20 of peas, 100 of Irish potatoes, 1500 of sweet potatoes, 312 pounds of butter, 160 hogsheads of sugar, and 12,000 gallons of molasses. The added expense of converting to sugar production finally ended James Love's ownership. Nathaniel Ware foreclosed on Love in April 1852 and purchased his half share of the property at public auction. William Sharpe quickly bought the other half of the plantation from Ware for $29,000. Sharpe took out a mortgage on half the property with Green, Harding & Company[83] ofNew Orleans January 1854 for $27,000. The sugar crops for 1852, 1853, and 1854 produced 500 hogsheads, 250 hghds, and 320 hghds respectively using horse powered equipment[84]. By 1855 Sharpe had to sell a half interest to Green, Harding & Company for $23,000. The sugar mill was upgraded to steam power and produced 175 hghds in 1855 and 200 hghds in 1858[85].Tax records indicate he had 90 slaves, 48 horses, and 2000 head of cattle on the plantation during 1857.
In April 1859 Samuel Green and Edward K. Harding sold their half interest to Thomas W. Peirce ofBoston, Massachusetts for $65,000. Peirce quickly sold the property to William J. Kyle and Benjamin F. Terry sugar producers inFort Bend County. The 1860 Census lists Sharpe as a planter:
William Sharpe 59 M Pa.
Eliza A. 45 F La. (Eliza Brown Avery Walsh m. 1854)
Henry 23 M La.
Robert Walsh 20 M La.
DudleyA. 18 M La.
Daniel H. 15 M La.
Mary 14 F La.
William 12 M La.
The slave census lists 19 slaves with 5 slave quarters. The 1860 Agricultural Census lists 600 acres improved and farm machinery valued at $800. He had 2 horses, 34 mules, 20 oxen, and 80 swine. His production was 3000 bushels of corn, 50 bales of cotton, 15 bushels of Irish potatoes, 300 of sweet potatoes, 150 pounds of butter, 8 tons of hay, 200 hogsheads of sugar, and 16,000 gallons of molasses.
Henry Sharp would serve with the Terry's Texas Rangers during the Civil War. [86] Benjamin F. Terry who organized the regiment would die in their first skirmish. William J. Kyle would also die at home before the end of the war. The estates of both Kyle and Terry sought the division of the property to settle their affairs. August 1864 the lands and slaves were valuated with Sharpe taking the northern tract valued at $83,435 while the southern tract was valued at $54,125. After the division of slaves was complete it was established that Sharpe would owe the Kyle and Terry estates $13,750. December 11, 1866 Henry Sharp married Anna L. Turner.
By 1869 William Sharpe was again heavily in debt trying to make the Chenango Plantation operational. He lost a judgment for $34,641.12 to Henry H. Williams and $18,726.40 to John L Darragh ofGalveston. December 1869 Williams and Darragh purchased Sharpe's interest in the property for $10,000 at auction.
Previous to the sale William Sharpe wrote John L. Darragh requesting the opportunity to lease or rent the property for the next few years:
Blandon Springs,Ala June 9th 1869
Judge J. L. Darragh
I am here in consequence of the ill health of my wife…I would like to rent the Chenango Plantation for a term, say one, two, or three years, provided I can do it in time, which would be by the first of October next so as to enable me to lay away sufficient quantity of seed for the next year. It is all important to plant a least one third of a cane crop annually…I find that I can certainly procure labor, a thing, heretofore doubtful. Those hands on the plantation, express a wish that I should remain, and declare their determination to leave when I do…I take it for granted that you and Capt. H. H. Williams will buy the plantation…[87]
John L. Darragh's partner's son John H. Williams was anxious to sell or the lease the property writing Darragh on several occasions making suggestions as to advertise for the rent or sale and letting know him know Alex Compton was interested "to rent the sugar plantation for 4 years at $1500 per year provided it is furnished with teams & utensils".[88] The following advertisement appeared toward the end of the year:
FORSALE OR LEASE
A VALUABLE SUGAR AND COTTONPLANTATION
IN BRAZORIA COUNTY,TEXAS
The Plantation formerly owned and cultivated by Kyle & Terry, and Sharp, known as "Chenango," situated as above, on the line of the Houston Tap and Brazoria Railroad, containing about 1750 acres of land, 800 of which are in cultivation and 250 acres in an excellent crop of cane, with all the best appliances and machinery for making sugar and cotton, is offered for sale or lease, commencing January 1, 1871, for the year or a longer period.
The mules, horses, and utensils now employed in carrying on the plantation, which was a good state of cultivation, also a supply of plant cane, can be had at a fair price from the owners, the present lessees on the plantation. Ample timber convenient. For terms apply to
J. L. DARRAGH,
or BALLINGER, JACK & MOTT
Galveston,Texas [Galveston Daily News,November 6, 1870]
Evidently William Sharp was able to give them the best offer and his experience from having operated the plantation from 1848. One of the contracts for 1876 states that it is similar to their agreement in 1873 between John L. Darragh, John H. Williams and William H. Sharp with the following terms:
…shall each furnish 1/3 of all monies required for current expenses and shall each be 1/3 interested in the proceeds of all crops & rents or profits of the Plantation after deducting all expenses…the cultivation of the Plantation …shall be under the Superintendance of W. H. Sharp …The said W. H. Sharp shall receive $1000 in compensation of his services…The owners shall receive a rent of $3000 payable out of the crop…The crop of cotton & sugar shall all be shipped to the agents of the Plantation at Galveston & Houston & by them sold & the net proceeds in their hands, shall be chargeable first with expenses incurred in the conduct of the business during the year, next with salary of the superintendent, then with the rent aforesaid payable to the owners of the Plantation, after which the residue of the net proceeds if any shall be equally divided between the parties of the contract…[89]
The 1876 expenses were $6542.77 while their total proceeds from crops was estimated to be $9219.07. J.L. Darragh's share was estimated at $2792.22, J. H. Williams' at $3687.16, and W. H. Sharp's at $2739.69. The cash crops mainly consisted of 34 bales of cotton at $1331.26 and 55 hogsheads of sugar at $5497.16, and molasses sales of $1923.05. Fifteen workers shared in the cotton crop receiving $380.43 with some of them already receiving $123.40[90]
The year 1877 has some expenses listed for the sugar house maintenance giving an idea what part of the year different types of maintenance were being performed:
1877
Jan F. Narbons act. for 1876 service as Machinist Boiler $10.00
Same machinery at S.H. $40.00
C. H. Thomas Black Smith grate puting in S.H. Windows $16.25
Feb. Brick $100.00
April Hinges for us of S.H. Mill Room $1.25
Work at Gin House $58.50
W. G. Mosely Maps ofPlantation $50.00
May Cement for S.H. $29.25 FirebrickforS.H. $54.40 Shingles & Sash for S.H. $52.65
June Building Cistern S.H. $25.00
Cleaning brick $51.84
Aug Pump for Cistern $19.95
Sept Work on boiler tubes $19.10
Gin & feeder $16.40
October taking flues from S.H. Boiler $20.00
Placing new tubes S.H. $30.00
Nov Copper pipes for clarifiers $29.95
Pipes Pumps & c. $14.60
Hoses for S.H. of ? $29.50
3 pipes & fittings ? S.H. $7.95
Lumber & Shingles $13.77
Nails & c. $11.80
Material for SH. $50.30
Sundry other Material S.H. $12.35[91]
Additional expenses listed over 591 cords of wood cut costing $441.35. Hogsheads, molasses barrels and kegs cost another $502.30. Wages paid for sugar making to C. S. Bennett and Charley Hawkins $120. Also listed is the payment of $600 to Captain Turner for his supertindance. The total expenses for 1877 approached $12,000 with half that being labor.[92] No list of crops produced was given.
William Sharpe and his wife moved back to Baton Rouge, Louisiana to the home of Samuel Walsh where he died in 1877 and his wife in 1884. His son Henry would stay on as manager for several more years not selling out their own personal property on the plantation until 1881. William also had part interest in a store in Chenango Station which was located just east on the International and Great Northern Railroad spur. He became Brazoria County Sheriff in 1879 and served until 1888. He died October 16, 1897 and was buried in the old graveyard in West Columbia with his wife and first son William.
1880 Census
William 44M Sheriff
Annie 37F
Andrew T. 10M son
Lou 8F daughter
Aileen 3F daughter
Katie B. 11mo. daughter
The Darragh family would sell their interest in 1881 to Rebecca A. Williams; and in 1884 she sold everything to A. C. Barnes for $10,500. In four years he was able to pay off his note and received clear title to ~3850 acres. Several owners and developers have owned the property since. The ruins of the sugar mill are the only structural remains from that era. The 1900 hurricane demolished most the structures that had remained until that time. Abner Strobel who was manager of the plantation stated: "Out of the 85 houses on the plantation in my charge, the next morning there were none habitable—practically all blown to splinters…"[93] Abner Strobel with his family lived in the second story of the sugar mill and had at least one daughter born there a week before the hurricane. He never owned a car and always rode in a buggy.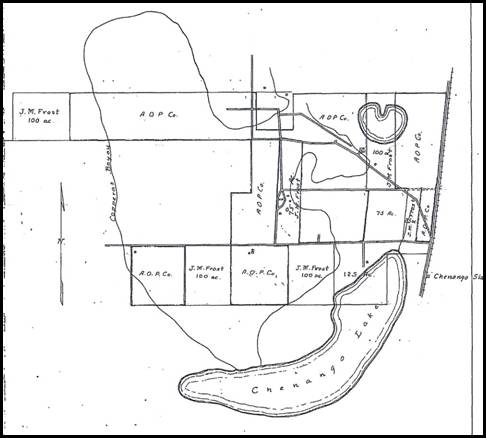 April 11, 1921 BrazoriaCounty Deed Record 172: 511
Mary and Lilly Barnard lived in the house as children in 1915 recalled:
"It was the oddest house," says the younger sister, Lilly. The first floor of the brick building was 16 steps up from the ground girdled by a round verandah which was attached to three sides of the house. On this level were two large rooms. From the rooms on the first level of the house six more steps led to two rooms above. One of these was used as the family's living-dining room. From that floor was another flight of 21 steps on the outside leading down to the ground in the rear of the house and to the separate building which was the kitchen. There also was a second flight of six steps which led directly to the verandah.
"It was a fine modern kitchen," claimed Mary Barnard, "I like it." For 1915 it probably was well equipped, with its built-in cabinets, wood-burning stove and a sink with water piped in from the well.
Their mother didn't care for the inconvenience of going out in the weather to cook and carry food up 21 steps to serve, so she had the stove moved up to the living room and turned it into a kitchen, too. Water was brought from the cistern on the verandah.
Each of the four rooms had its own fireplace. Underneath the first floor of the house was a storm cellar …
During the War Between the States it was said to have been used as a prison for Yankee prisoners. A smallpox epidemic broke out at that time, resulting in the death of many prisoners and many of the slaves on the plantation. The Barnards say they have seen a graveyard on the northeast end of the property where the victims had been buried, but it was not marked, nor kept up, even at that time.
In the early 1900's Chenango was purchased by Dr. Harvey Motherell of Angleton. The north side of the lake on the plantation was farmed by blacks, many descendants of former slaves, while the southern part was farmed mainly by German families. [The house at Chenango…Ill-fated as its first owner, Peggy Case, The Brazosport Facts, Freeport, Texas August 7, 1974]
Several owners and developers have held the property during the past century. The property is now under development with the exact locations of the home site and slave quarters under question. The sugar mill is in a state of ruin with its roof falling in though many of the old mortise and tenon beams still remain. One underground cistern and a well are located west of the mill.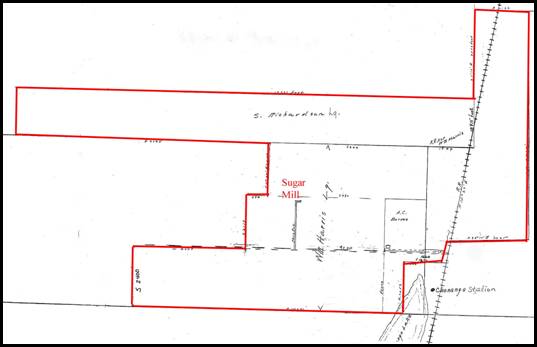 Chenango Plantation ~1920's [Brazoria County Historical Museum]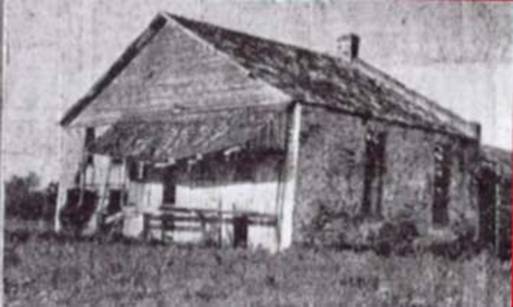 Chenango Sugar Mill May 13, 1934Courtesy Brazoria County Historical Museum[94]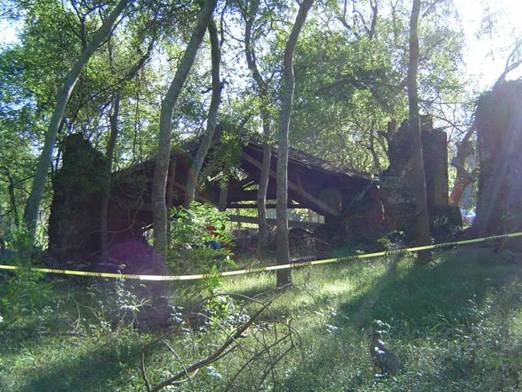 The Chenango remains after huricand Ike. These remains were leveled in 2014
West End of Chenango Sugar Mill at time of Survey 2006

Appendix A
September 10, 1836 BrazoriaCounty Deed Record A: 23/24
Bejamnin Fort Smith toMonroe Edwards
| | | | | |
| --- | --- | --- | --- | --- |
| Harry | Tomy | Ado | Cuggo | Bancola |
| Caro | Peter | Simon | Itassi | |
| George | William | Juacco | Anthony | |
| Dick | Adeligna | Daniel | Eli | All African |
Appendix B
June 24, 1844 BrazoriaCounty Deed Record B: 433/35
James Love Mortgage Robert and D. G. Mills
| | | | | |
| --- | --- | --- | --- | --- |
| Harry | Adeligua | Dick | Yuoca | Bob |
| George | Atalla | Pete | Tomy | Ega and Child |
| ?lick | Daniel | Cojo | Simon | |
| Bancola | Willowee | Ado | Tom | |
| Additional 8 women purchased by William Russell from Monroe Edwards $7200 | Tally | | 2 Additional African Women | |
| Nancy & 2 Children | Sally | | Charlotte & children | |
| Lucinda & 1 Child | Clara | | Big Sally & children | |
| Alaba & 2 children | Mary | | | |
| Jena & 1 child | | | | |
Appendix C
April 9, 1846 BrazoriaCounty Deed Record D: 139/41
James Love Mortgage Nathaniel Ware
| | | | |
| --- | --- | --- | --- |
| Harry | Daniel | Women | Children |
| Bancola | Lewis | Rose | Eliza, Anthony |
| Bob | Jim | Ega | Opa, John, Frank, Jane Judy |
| Addo | Charles | Tara | Caroline, Julia |
| Ellich | All Grown Together | Sally | Malinda, Beshar |
| George | | Fanny | Tartor, Delta |
| Itatio | | Jena | Gulens, Love |
| Tony | | Malinda | Mary, Martha, David |
| Cudjo | | Lucinda | Abbee, Henry |
| Colo | | Sabine | Polly, Caesar |
| Dick | | Aliba | LBill, Keto , Jack, Emiline |
| Tom | | Alice | Louis, Martha, Jane |
| Adelazua | | Muy | Sam, Sally, Willowell grown |
Appendix D
February 17, 1849 BrazoriaCounty Deed Record E: 115/19
James Love Mortgage William Rice & Charles W. Adams
| | | | |
| --- | --- | --- | --- |
| Harry | Yua | Women | Children |
| Bancola | Daniel | Rose | Eliza, Anthony |
| Bob | Lewis | Ega | Oscar, John, Frank, Jane Judy |
| Addo | Jim | Tara | Caroline, Julan |
| Ellick | Charles | Sally | Malinda, Besha |
| George | All Grown Together | Fanny | Lushe, Delta |
| Italee | | Jena | Julius, Love |
| Toney | Original Africans | Malinda | Mary, Martha, David |
| Cudjo | Of | Lucinda | Abby, Henry |
| Coca | Ben F. Smith | Sabine | Polly, Carsai |
| Dick | | Aliba | Bill, Kits , Jack, Emiline |
| Tom | | Alice | Louis, Martha, Jane |
| Adela | | Mary | Jane, Sally, Willowa grown |
Appendix E
June 8, 1855 BrazoriaCounty Deed Record G: 313/15
William Sharpe to Green, Harding & Company
| | | | |
| --- | --- | --- | --- |
| Name | Age | Name | Age |
| Ben Collie | 38 Yrs | Isaac | 3 Mos. |
| Lucinda | 36 | Dilaper | 35 |
| Delia | 5 | Sallie | 33 |
| Aleck | 35 | Malinda | 11 |
| Alice | 33 | Ann | 8 |
| Louis | 15 | Daniel | 35 |
| Jane | 13 | Malinda | 35 |
| Martha | 12 | Mary | 16 |
| Martin | 7 | Misson | 14 |
| Clarissa | 5 | Darcy | 12 |
| Jesse | 3 | Scippio | 10 |
| Austin | 8 | Toby | 3 |
| Peter | 4 | Tom | 35 |
| Coco | 45 | Rose | 33 |
| Alaba | 35 | Anthony | 11 |
| Jack | 14 | Simon | 8 |
| Adelina | 10 | Cudjoe | 40 |
| Tanice | 6 | Hyanea | 35 |
| Teche | 3 | Joe Cudjoe | 14 |
| Addo | 45 | Martha Ann | 10 |
| Terese | 35 | Big Lewis | 35 |
| July | 16 | Sabine | 32 |
| Caroline | 13 | Infant | 6 Mos. |
| Sarah | 10 | Eagel | 35 |
| Emily | 2 | Bob | 35 |
| Dick | 35 | Mary | 38 |
| Little Sallie | 35 | O Sue | 20 |
| Joe Dick | 13 | J. Burny | 1 |
| Willie Ure | 50 | John | 17 |
| Nanny | 35 | Frank | 15 |
| Delta | 15 | Judy | 9 |
| Italy | 35 | Scippio | 7 |
| Mary | 35 | Big Jim | 35 |
| Polly | 14 | Sam | 16 |
| Ceasar | 10 | Abel | 7 |
| Eliza | 8 | | |
Appendix F
Monroe Edwards Esqr.
1836 To Schooner Kusiosko & Owners
June To Ashmore Edwards passage fromN. Orleans $20.00
" Mr. Monroe from Sabine " " " 10.00
" passage 40 Negroes from " 250.00
" " 54 " from Bolivar 150.00
and detention of vessel 2 days at
Point Bolivar
In Bringing Boat from Sabine 10.00
$440.00
the Above Account is
Correct
James Spilman [James Morgan Papers 31-0376]
Appendix G
Chenango Plantation
By Marie Beth Jones[95]
(Printed in The Brazosport Facts 1960)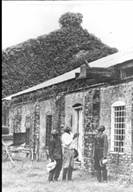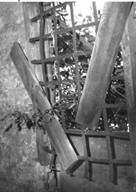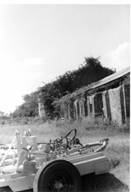 1947 1960 1960
He was aTexas badman and a Southern gentleman; a slave smuggler and a respectedBrazoria County planter. Well over a century ago he owned the vast Chenango Plantation in the rich bottom lands north of what is now Angleton.
Monroe Edwards was the sort of man who inspired confidence in members of his own sex and fluttering hearts among the ladies. From a refined and proud oldKentucky family, he had been blessed with a handsome exterior and cursed with a scheming, dishonest brain and a thoroughly black heart.
Edwards mingled with the wealth and nobility of Europe, entertaining lavishly on the continent and telling carefully modest—and entirely false—stories of his own heroism during the war forTexas independence. He wooed a title English lady and took as a mistress a voluptuous slave.
The Indian name of Chenango, which he gave his plantation after a town inNew York state, is still used. It marks not only the acres which he once owned, but the small settlement in that area and a stop on the Houston and Brazos Valley Railroad as well. There are a few other reminders, too. The descendants of slaves he smuggled into the county are scattered throughout the bottoms. A cluster of huge oak trees planted as seedlings by one of those slaves still stands to mark the location of the original home.
A few hand sawn timbers from that building have been preserved though the residence has long since been destroyed by the elements. Two huge brick cisterns are buried underground at that site.
Looking strangely out of place in the modern Brazoria County Courthouse are crumbling, yellowed papers inscribed in an almost illegible handwriting. They concern suits, trials and land transfers in which Edwards was involved and form a large part of the early court and deed records of this county. Still others are to be found inFort Bend County.
Above all, there is the story of a fabulous man who might have been a great power in developing earlyTexas, but whose name has been almost forgotten because he chose the paths of lawlessness and greed.
Apprenticed to James Morgan, Edwards' life inTexas began in 1825, when Morgan followed Stephen F. Austin fromNew Orleans and established a store and plantation at the spot known as Morgan's Point onSan Jacinto Bay.
Though the Edwards family had once been wealthy,Monroe's father, Moses Edwards, had lost the fortune inKentucky. He moved toTexas in 1823, hoping to recoup those losses. Settling near what is known as San Leon, but was then call Red Fish Bar, the elder Edwards wrote such glowing accounts of earlyTexas that not only his son, but Morgan, too, was impressed.
Morgan withstood the temptation presented by those letters for two years before he andMonroe packed up merchandise and joined the movement toTexas. They were followed four years later, byMonroe's older brother Ashmore, who settled on a plantation on theBrazos River.
Ashmore had moved toNew York to seek his fortune, but became convinced thatTexas offered better opportunities along those lines.
Monroe Edwards has but one favorable claim to recognition in history, and even that is open to some criticism. He was one of 16 Texans who were imprisoned atFort Anahuac in the fracas which was a preliminary to theTexas revolution.
There were immediate reactions, both for and against the actions atAnahuac, with one side praising them as patriots willing to suffer imprisonment in the cause of right and the other considering them hot headed fools whose actions would bring grief to the entire colony.
One ofBrazoria County's early settlers, Ammon Underwood, noted the incident in his journal entry of July 1832. "The public are still highly excited. A small party lately went against a Mexican Garrison stationed atAnahuac which surrendered by capitulation. The party were unauthorized and much of the Community in this section of the country are highly excited against the conduct of the party and the course of those few, who were leaders of the expedition…"
Whatever the wisdom of their act, Edwards was for once in good company. Among those imprisoned with him were William B. Travis, later to receive immortality at theAlamo, and Patrick C. Jack. Jack would one day be attorney against Edwards in a court suit which would result in Edwards' downfall.
It was the following year Edwards was seen by Mary Jane Harris of the family for whomHarrisburg was named. She had been a passenger on the ship, Julius Ceasar, which landed at Quintana. Staying at a boarding house there, she peeped through a wide crack in partition wall and watched Edwards as he sat eating enormous quantities of baked sweet potatoes.
She noted his "rich and gaudy attire, his flashing diamonds, and his gaily caparisoned horse."
Another source mentions silver trim on his saddle and bridle and his silver spurs.
A man of luxurious tastes, this Monroe Edwards, and one who had no qualms about how he financed them. [The Facts, March 20, 1960]
Slave trading was a profitable business back in 1833 if you had the stomach for it and were smart enough—or lucky enough—not to get caught.
Monroe Edwards had met a man named Holcroft inNew Orleans some time before. When Edwards was 25 years old, the two met again onGalveston Island. Holcroft was looking for a partner, and he began painting rosy pictures of the fabulous profits to be had in slave smuggling, almost for the asking.
All it required was a man with the nerve to wink at the law and the cash to grease enough palms for the law to wink back, Holcroft told Edwards. He would furnish the cash, Holcroft added hastily. About that time Edwards became convinced that this was the opportunity he had been waiting for.
Anxious to protect his reputation and concerned at his family's opinion should they know of his plans, Edwards was cautious in broaching the subject to his mother. "I've been offered an opportunity to engage in profitable business inNew Orleans," he told her as he made preparations to leave.
If Mrs. Edwards suspected anything was wrong or had any doubts thatMonroe was other than the respectable citizen and dutiful son he appeared to be, there is no record of it.
Edwards and Holcroft sailed from New Orleans after agreeing that Holcroft would furnish the necessary capital and that Edwards and he would split the profits.
The voyage brought with it many complications and hardships, and at time Edwards must have wondered whether the scheme was as clever as he had first thought. Finally, though, the hazardous trip was finished, the slaves sold, and the profits were beyond Edwards' wildest dreams.
They purchased 196 Africans at an average price of $25 each and had sold them for about $600 each, realizing a net profit of more than $100,000, of which, Edwards received on-half.
For that sort of profit, a man could withstand a few inconveniences, could afford to take some chances, Edwards decided. There is little doubt that he began then to make plans for the future.
When he returned to his home, he disclosed only the success of the business venture, not going into its methods. His mother was elated at the news, heaping praise onMonroe and apparently innocent of any suspicion as to the source of his profits.
A large part of that money was used to purchase a vast acreage in the rich bottom lands of northernBrazoria County, near the originalAustin colony. Edwards then became an active land trader buying and selling dozens of different tracts and leaving his name on many pages of the Brazoria andFort Bend County deed records.
The family sold their place at Red Fish Bar, andMonroe's mother and a younger brother came to live at Chenango for a time. They were soon shipped off to live atNatchez,Mississippi, however, whenMonroe decided it was time to take the next step in his plan.
He had established himself firmly as a Southern planter in the months since that first smuggling trip, and now he sought the advantages travel can bring.
He paid a lengthy visit to his family inNatchez, and while there became acquainted with a wealthy citizen of that town, Christopher Dart.Monroe had been seeking a business partner. Wealth could not be considered a drawback, and Dart also evidenced interest enough in money to make it likely he would go along with the ventureMonroe had in mind.
Using the charm so many people seemed to find irresistible,Monroe persuaded Dart to purchase a half interest in Chenango and to join him in smuggling African slaves fromHavana toTexas.
According to law, slavery was prohibited inMexico and in its provinceTexas. In practice, however, colonists who had brought their Negroes to the area had not been molested by the government.
Reciprocal treaties betweenEngland andSpain dictated that citizens of those countries who captured Negroes at sea might take them to their respective colonies. There, atSierra Leone or the British WestIndia islands for the English, orCuba for the Spanish, the Negroes could be sold into slavery for 10 years, as apprentices.
The law required that after 10 years these slaves were to be liberated. A slave for 10 years was understandably, worth considerably less than one required to serve his entire life. At the going rates, such apprentices brought about $200 inHavana, for their full decade of servitude.
Edwards and Dart schemed to by the slaves atHavana on pretext of sending them to Trinidad de Cuba to complete their 10 years service. In reality, they would ship them toTexas, keep them at Chenango Plantation, and quietly sell them into lifetime slavery at a neat profit.
Edwards was in charge of the Negroes during the trip fromHavana to the mouth of theBrazos River. He found that Mexican officials at Quintana and Old Velasco were happy to close their eyes to the cargo he carried, providing payment was both prompt and generous.
Crowded into the hold of the ship Shenandoah, the slaves moaned in terror at what would become of them. None had found the 19-day journey fromHavana a pleasant one, but fear of what awaited them when they landed overshadowed present discomforts.
The first load of slaves was unloaded onMarch 2, 1836. the ship had bumped over theBrazos River bar into that stream traveling to the landing nearest Chenango to unload its cargo. There were 185 natives of the African jungles plus a few children which had been born while they were inCuba. Many still carried their tribal marks.
The date is one remembered by Texans for another reason. On that same day, the Texas Declaration of Independence was signed atWashington on the Brazos.[The Facts,March 23, 1960]
While his main occupation may have had little to do with planting, Monroe Edwards gathered about him the equipment and buildings necessary to that occupation including a fine sugar house, its bricks hand made by slaves at Chenango Plantation, its double kettles capable of processing quantities of the cane juice each season.
One historian describes Edwards as being kind and generous to his slaves who "all thought kindly of him, and thought there was on one his equal…to the last they revered his memory."
Be that as it may, the Brazoria County Grand Jury for the Spring Term , 1838, thought differently.
Some of his slaves were accused of stealing two barrels of sugar and five sacks of corn, all valued at $106. As their master, Edwards was held responsible and the charge of theft was lodged against him.
In the indictment the Grand Jury said, "The Negroes of Munro Edwards have for some time been guilty of numerous thefts in the neighborhood ofColumbia, and that from circumstances within our knowledge, we believe that they have been impelled to such conduct from want of sufficient food and such treatment as common humanity requires should be extended to slaves…"
The case was dismissed, but such a charge leaves at least a little doubt as to Edwards' kindness and generosity.
A peaceable man who had no quarrel with the Mexican government—after all they had allowed him to make a fortune on some pretty questionable transactions—Edwards decided he needed a change of climate when the time came for Texans to fight for independence.
Leaving Chenango and his other holdings for his brother, Ashmore, to care for, Monroe journeyed toNew Orleans. His charm and polish made him a favorite in the Crescent city, wand he traveled in the upper-most level of society there.
Not content to limit his social accomplishments to any one place though, he traveled on toMobile.Monroe had planned a slightly more extended visit to that city than he actually paid. He had to leave there somewhat suddenly for reasons of health after having become involved in an affair which was displeasing to certainMobile citizens.
On toCharleston, Baltimore andNew York, and then back toBaton Rouge,Monroe's itinerary carried him. It was in that city that he met a gambler whose amazing likeness to Christopher Dart precipitated a fascinating idea.
For some timeMonroe had been telling Dart that as soon as the revolution inTexas ended, they would dispose of their smuggled slaves and split the profit. With the revolution over he returned to Chenango with a new scheme in mind.
In a letter to Dart, he urged that he should visitTexas and make a thorough inspection of their land and slaves. Dart agreed and wrote back his acceptance of the kind invitation, along with the date his boat would dock at theport ofGalveston.
Always the gentleman, Edwards was on hand to meet his partner there, registering for the two of them at the that city's finest hotel, introducing Dart to the society and pleasures of the fabulous city, and making plans to spend several days there rather than rush immediately into business.
Hidden in the crowds on the dock, another man took note of Dart's arrival with a great deal of interest. It was the gambler who bore such an uncanny resemblance toMonroe's partner.
Taking note of Dart's attire, his gestures, his manner of speaking, the gambler purchased clothing as nearly as possible duplicating Dart's. He then took his purchases to his room in another hotel and began practicing in front of a mirror, waiting to be called on stage by Monroe Edwards.
Monroe watched carefully for his opportunity, and saw it the next day when Dart asked to be excused so he might catch up on some correspondence in his room. Edwards hastily contacted his gambler friend who donned the new clothes and joined Edwards at the hotel lobby.
The resemblance was so great that none of the people who had already met the Mississippian had any idea they were now talking to someone else. As the imposter and Monroe chatted of inconsequential matters to Captain Peyton R. Splane; recently a member of theTexas army, Monroe produced a couple of documents and waved them languidly. Casually as though the instruments were of little or no importance, he asked if the Captain would witness them.
"Glad to do it," that gentleman replied, "Always glad to be of service."
Handing the documents to Captain Splane,Monroe continued the conversation. Without bothering to read the instruments, Captain Splane signed them. Within a few minutes, the signatures of John F. Pettus and Ashmore Edwards were added in a similar manner.
TheBaton Rouge gambler had done his part.Monroe paid him the balance of the $1,000 he had promised for the impersonation, the gambler resumed his own clothing and his own identity, and headed back forLouisiana.
The real Dart completed his letter writing, and returned toMonroe's side in the hotel lobby, leaving only one witness to the little drama wondering what was going on.
That was the clerk who had stopped at Dart's room on a minor errand and had noticed the gentleman had taken off his shirt and was writing at a table. Returning immediately downstairs, the man was almost sure he saw Dart talking fully clothed, with Captain Splane and Edwards. For a few minutes he wondered about the oddity of the situation and then dismissed it as of no importance.
After a visit of several days at Chenango, Dart returned to Natchez, convinced his partner was a prince of a fellow and an astute businessman, and that Chenango Plantation and its slaves represented a fine investment. [The Facts March 27, 1960]
In January of 1838, Monroe Edwards decided he had gathered enough moss in earlyTexas society, and began to make plans for a trip toEurope. Being a prominent and highly respected plantation owner, and a man with elevated standards,Monroe intended to see the continent first-class.
As a preliminary to his voyage, he took a trip toWashington. There the minister of theRepublic ofTexas to theUnited States agreed to help him. The minister obtained letters from some of the most outstanding men in the country introducing Monroe Edwards to high statesmen and noblemen ofEngland.
No matter that his last trip had been taken mainly to evade service in the army of theTexas Republic,Monroe felt the need of a military title to lend dignity and weight to his reputation. He chose the title of Colonel and began portraying a hero of the battle ofSan Jacinto for his interested new acquaintances.
His introduction to the society ofEurope was described in an issue of the National Gazette, several years later.
"He was not only a colonel but aTexas colonel, and one of the first of those strange savages who had beaten the Mexican Napoleon in the battle ofSan Jacinto. The Texas colonel soon became the rage in fashionable circles, and if the desire had been great to see one of those semi-barbarians of whose atrocities the European world had heard so much, the surprise, after he was seen, was in due degree the greater to find him, instead of a monster in the garb of Captain Kidd, a very elegant gentleman, with a skin transparent with cosmetics, and a grace that appeared to be native to the air of courts."
Edwards was entertained and feted, taken to sites of interest, and introduced with a note of triumph. Over and over he was asked to tell aboutTexas' war for independence, which he did with modest references to his own heroic part. He hosted gala dinners and exclusive suppers, entertaining royally, with no thought to expense-or at least no thought that showed through that carefully pleasant mask.
As the Gazette explained it, "There was also the consoling thought that an opportunity would arise in the course of things, to redeem the wounds of his purse through the same avenues by which it had been drained. Keeping his eye always bent upon his chance of replenishment, he continued his expensive course of life, supporting a mistress, and sporting a tandem with the most ambitious bloods of the metropolis."
He attended the coronation of QueenVictoria, no mean accomplishment for a man apprenticed to a merchant in a foreign county only a few short years before. It was shortly after that social triumph that his brother Ashmore wrote, urging that he return immediately toBrazoria County. Christopher Dart was attempting to robMonroe of his estate.
Though they hated to see him go, his British friends agreed that a man must protect his interests and bade him goodbye. One of the most prolonged and tearful of those farewells came from a lady of quality with whom Edwards parted inLeicester Square. As a parting gift, she forced upon him a large and expensive diamond. ConsideringMonroe's past, there is some doubt as to how much force was required.
When he returned toBrazoria County, Monroe Edwards shed both his title and his brilliant military record contacting Ashmore at once to learn what had happened in his absence. The news was not heartening. He found that Dart was in the republic and that he had filed claim to the bulk ofMonroe's estate.
Ashmore was indignant at the very thought of Dart's duplicity, explaining that the property was under sequestration and that Dart had accused Monroe of attempting to defraud him of his interest in their partnership land and slaves.
Edwards hired John C. Watrous, who had only recently retired as the attorney general of theRepublic ofTexas and John W. Harris, outstanding Brazoria lawyer, to defend his claims. Feeling that he had thus aligned himself with the best possible legal counsel, he proceeded to spend little time worrying about the outcome of the trial.
Public sympathy seemed to be onMonroe's side. It was common gossip that Dart's wealth had been acquired by some questionable means, whereasMonroe's business reputation was unsullied except for suspicion of sharpness.
Those suspicions aboutMonroe had many roots, one of them a court suit brought by Robert Peebles in 1837, concerning an African slave named Fagbo.
Edwards admitted selling the slave to Peebles at a price of $1200. He had given Peebles a warranty that the slave was sound, but Peebles charged that Fagbo had consumption at the time of the sale and was "afflicted with a disease in its nature incurable…that the slave has been valueless ever since the purchase and that in nursing and attending the slave" he had incurred and additional expense of $100.
Peebles' attorneys were William and P.C. Jack, the latter on ofMonroe's companions in theAnahuac incident.
ThoughMonroe denied all allegations concerning the ill health of the slave, the jury, with I. D. Patton as foreman, gave Peebles a judgement of $1200 plus interest from the date of the sale. The incident had not ruinedMonroe's reputation, but had made local citizens a little cautious in dealing with him.
Despite this caution, they found it difficult to believeMonroe was guilty of criminal dishonesty. The ladies were particularly likely to jump toMonroe's defense, and more that one Brazoria Countian thought it prudent to keep an eye on his wife and daughters whenever the handsome young gentleman was around. [The Facts, Marc 30, 1960]
In the days between Monroe Edwards' return toBrazoria County and the hearing on the suit filed by Christopher Dart,Monroe resumed his role of Southern planter, adding to the characterization a touch of martyrdom at having been turned on by his trusted friend and former partner.
He was also prone to deep sighs for the English lady he had been forced to leave, and began casing about for a handy substitute. Before long he came to notice one of the slaves at Chenango, a beautiful and seductive girl of 15 years who bore the appealing name of Kitty Clover.
Kitty was the illegitimate child of a Spanish grandee inCuba and a slave, and a story in an old copy of the National Gazette gave this description:
"Her plump limbs being already touched with a voluptuous finish that would have made her a fortune as a model artiste, and had been gifted by nature with a Caucasian skin. As it was, her pelt was but little darker than a golden brown…She had no blushes to suppress, and her civil dependence left without condition to make or calculations to consider. She gave nothing but what would become the windfall of some sooty Tarquin, and in exchange she got ease, luxury and a celestial lover. Who could blame her for the bargain?"
When the trial began, Brazoria Countians crowded the courtroom to see Dart take the stand as first witness in the case. Dart's attorneys were the firm of Jack and Townes of Brazoria, experienced and well known.
Their fee was to be five per cent of the judgment or two and a half per cent of any compromise settlement. As earnest money for that fee, Dart mortgaged 10 of the Chenango slaves to them.
Edwards' attorneys showed two bills of sale bearing the signature Christopher Dart. One of them conveyed Dart's interest in the partnership lands, the others his half interest in the slaves, to Edwards.
The signatures of Captain Peyton R. Splane, John F. Pettus and Ashmore Edwards were inscribed on both bills of sale as witnesses.
"Is that your signature?" the attorney demanded.
With shaking hands, Dart accepted the instrument from the attorney and looked at it long and hard. His expression became stricken as he answered in a low voice, "I believe it is." Horrified, his attorney said "Then we abandon the case."
"No," said Dart quickly. "No. I didn't mean that I signed it. I never signed such an instrument as that. It's a forgery!"
A stir filled the crowded courtroom as neighbors and friends of Monroe Edwards whispered and Judge Benjamin C. Franklin had to ask for quiet.
Ashmore Edwards took the stand. "Yes, I signed the instruments as witness," he testified. "Dart was present then and when Capt. Splane and Mr. Pettus signed them. I saw them sign in his presence."
His testimony carried the ring of truth, for Ashmore Edwards believed it to be true. He as was as much fooled by Monroe's trick as everyone else had been and had not the slightest suspicion that the man with Monroe when the witnesses signed those papers was a gambler from Baton Rouge.
Sitting with his attorneys, Dart had picked up the instruments and was examining them again. Suddenly he made a small exclamation, and began to whisper to his counsel. Dramatically, the lawyers jumped to their feet, asking Judge Franklin for a recess.
"Important evidence has come to our attention," they explained, approaching the bench. "We should like to have time to plan our procedure in the light of this new evidence."
They were careful to give Edwards and his lawyers no indication as to what the discovery had been. Actually Dart had recognized the paper used in the bills of sale as a special foolscap he used only for letter writing. With that discovery came the suspicion that the documents were actually letters from which all the writing except the signature had been erased chemically, with bill of sale written later.
There were two men inBrazoria County in that day who might qualify as experts on chemicals and who might be able to throw light on the possibility that Dart's theory was correct. One of those was Dr. Charles B. Stewart. The other was Edmund Andrews, proprietor of a stationery and book store in Brazoria. Both gentlemen were called to testify.
Andrews was called to the stand. Despite vigorous objects by Edwards' attorneys, the court ruled that he could apply certain chemical tests to the documents.
Monroe's legal counsel may not have known what the plaintiff was trying to prove, but they could tell by his attitude that it might spell disaster for their client. If he was worried over the possibility that his plot would be discovered, Monroe Edwards kept it well hidden.
Conferring hurriedly with Edwards his lawyers could do nothing to prevent the chemical tests after the court had ruled. With a growing conviction that their case was lost, they watched faint spidery lines, clearly distinct from the bill of sale become apparent as Andrews applied his tests.
Dr. Stewart then took the stand, agreeing with Andrews that there had been writing on the paper before the bill of sale, and that the original writing had been removed by chemical means.
The situation looked bad for Monroe Edward, but he had not hired the most famous lawyers in the Republic for nothing. They were prepared to fight for their client.[The Facts,April 3, 1960]
Monroe Edwards had chosen his attorney well. John C. Watrous, who had formerly been attorney general for theRepublic ofTexas and John W. Harris, an outstanding Brazoria attorney, were not the sort of barristers who let their client down from want of persuasive arguments or quick thinking.
"Your honor," they said to Judge Benjamin C. Franklin, "we ask in all fairness to Mr. Edwards if he should be held responsible for any use Mr. Dart may have made of the paper before the bills of sale were drawn?"
After all, they said, their client had witnesses to the transaction. Ashmore Edwards had already testified to signing the papers inGalveston and to seeing the other two witnesses sign. He had also testified that Dart had been present during that time.
Despite the eloquent pleas of Edwards' attorneys, the jury returned a verdict against him. The partnership property of Dart and Edwards was valued at $99,088. Judge Franklin, who presided over the First District of theRepublic ofTexas, including Brazoria andHarris Counties handed down a judgment directing that Dart hold the property until he realized from it the amount due him.
Even worse things were in store for Monroe Edwards. The following day, still smarting from the loss of this suit, he and his brother Ashmore Edwards were arrested in Brazoria by County Sheriff Robert J. Calder. Both were charged with forgery, and inMonroe's case bond was denied and he was placed in jail in Brazoria.
The news of this new development traveled fast, and before long had reached even the ears of the 15-year-old slave girl named Kitty Clover, whomMonroe had earlier made his mistress.
Without hesitation, Kitty Clover made plans to help her master as best she could. She borrowed clothes from one of the male slaves at Chenango and disguised herself as a boy, leaving Chenango Plantation at for Brazoria.
To the surprise of the jailer there she announced, "I'm one of Massa Edwards's boys. I'd like to see him. My name is Henry Clover."
Apparently without suspicion, the jailer unlocked the door of Edwards's cell to admit "Henry" and authorities decided to allow Edwards to keep his slave with him as a personal servant.
Still working in behalf of their client, Edwards' attorneys journeyed toSan Antonio, securing there a writ of habeas corpus to have the prisoner brought before the judge of that district. At the hearing, the judge would decide whether to admit Edwards to bail.
The hearing was held within a few days, Edwards traveling toSan Antonio with his attorney John C. Watrous and with his servant "Henry". The hearing was decided in his favor, and $5,000 bond was set with Colonel Louis P. Cook, Secretary of the Texas Navy, becoming Edwards' security.
Edwards and his attorney John C. Watrous decided to remain inSan Antonio for a few days, but Edwards sent "Henry" back to Brazoria with the plaintiffs, explaining that he wanted to send a message to his brother. Actually, he had instructed Kitty Clover to spy out the plans of the prosecution and report them to him.
ForMonroe's purposes, it was a wise plan. Kitty learned from a servant of one of the lawyers that there would be two new warrants for forgery issued against Edwards when he returned to Brazoria, and that he would again be jailed.
ReachingBrazoria County, Kitty discovered that two important witnesses had arrived to testify at Edwards' trial. The first was Captain Peyton R. Splane, one of the witnesses to the bill of sale. The other witness would more than undo any good the Captain might accomplish for Edwards, however.
This was the hotel clerk who had seen Dart sitting shirtless in his room writing letters one minute, and completely dressed, talking in the hotel lobby with Edwards and Captain Splane, the next minute.
The clerk had long since put the puzzling incident from his mind, but reports of the Dart-Edwards trial had recalled it. Sure now that the man he had seen in the hotel lobby was an imposter, the clerk's testimony was sure to send Edwards to prison.
According to the plan she and Edwards had made in San Antonio Kitty secured a horse and traveled to an inn about 40 miles from Brazoria, where she waited for her master to arrive. Slipping a note to Edwards as he passed through the stable, Kitty waited there until he had an opportunity to read the message and come back outside. Without pausing he whispered that they would leave at.
Kitty had the horses saddled whenMonroe left the darkened inn. They rode off toward theSan Bernard River, concealing themselves in the woods the next day and waiting for darkness before riding on to Chenango Plantation.
They approached cautiously, checking for any sign of activity that would mean authorities were waiting for them. They stopped long enough to pack food and clothing and a bag of goldMonroe had hidden for emergencies.
Then they rode off toward the southwest, leavingMonroe's lands and slaves anchored by the court judgment, an unpaid note of $35,000 for slave purchased inHavana, and his appearance bond forfeited.[The Facts, April 6, 1960]
Though Monroe Edwards had many faults, lack of self-confidence was never one of them. Leaving Chenango Plantation inBrazoria County with Kitty Clover, his slave girl mistress still disguised as a boy, Edwards headed toNew Orleans and thenNatchez.
He told his mother a long sad tale of how he had been persecuted, picked upon and robbed by trusted friends. The story bore little resemblance to the truth, but he was always a convincing liar.
After a short visit with his family,Monroe and Kitty moved on toward the north. Edwards had another nefarious scheme in mind, one which he hoped would both bolster his sagging finances and harass some of his old enemies.
Looking up a wealthy planter he had known earlier, Edwards was introduced toOhio's best known and most influential abolitionists. He listened to their arguments, and slowly allowed himself to come to their way of thinking concerning the horrors of slavery. Giving all indications that he was a dedicated convert, he announced his intention of freeing the 169 slaves he owned inTexas, as well as his personal servant "Henry" Clover.
He had the necessary papers drawn up and by that time was held in high esteem by his abolitionist friends that one of them was only too happy to cash a check for Edwards in the amount of $2,000.
This meant a quick move toNew York before the check could bounce back. Again passing himself off as aTexas colonel with a brilliant war record, he made this period pay well, using his ability as a draughtsman in enough forgeries to finance the best passage toLondon.
Before the European voyage, Edwards had written letters of inquiry on a host of different subjects to several dignitaries and politicians. His plan of receiving the replies bearing the signatures of such persons as Daniel Webster, Martin Van Buren John Forsyth and others worked well. He then proceeded to use his knowledge of chemical ink erasure to rid the paper of all except the signatures, and to write in glowing introduction of Colonel Monroe Edwards to high ranking British officials.
With these documents he and "Henry" left for England, where Monroe hoped to cause all sorts of trouble between England and the Republic of Texas over slaves which Monroe himself, had smuggled some four years earlier.
He was convinced that this plot would not only bring him respect and prestige inEngland, which was opposed to slavery, but would also fatten his always hungry purse.
It is indicative of Edwards' supreme self confidence that he dared let his whereabouts be known to anyone of importance inTexas. Apparently without qualms, he chose the highest officer there with whom to correspond in carrying out his new scheme, and history does not record a single difficulty resulting from this brazen action.
In a letter to Texas President Mirabeau B. Lamar, Edwards wrote fromEngland that the Negroes he had brought to Chenango had been purchased by Edwin Sumner, agent for Christopher Dart, in the city ofHavana, Cuba.
Edwards explained that though Dart had sold them to him representing them as slaves for life, they were actually captured by a British man-of-war and brought toCuba. This meant they were sold into slavery for only 10 years.
Edwards gave the whole details of the transaction—glossing over only his part in it—and advised Lamar that the public should not purchase the Negroes since England would surely see to it that they were released.
He was hoping his plan would prove as profitable as the forged letters of introduction he was using inEngland. He was again the fabulousTexas colonel, wined and dined and even introduced on the floor of Parliament. His English friends lauded him for having emancipated 200 Africans held captive inTexas and helped him arrange for several loans, for which he gave as security forged bonds and receipts upon a bank in theUnited States.
General James Hamilton,Texas minister toEngland andFrance, put up with the situation for some weeks, growing more and more suspicious of Edwards. Finally, he decided to do a little detective work, and wrote back toTexas for information concerning the colonel.
What he learned caused him to write still another letter, this one to Edwards, informing him that the past had caught up with him. "I hope you will spare me the pain and necessity of a more detailed and public statement of your recent history inTexas," General Hamilton wrote.
Edwards made plans to leave as soon as possible, but a voyage would take money. Therefore, he planned a last touch to end his English social career. News of his past had preceded him, however, and he was ordered from the office of Lord Brougham. That gentleman, one of Edwards' closest friends inEngland, informed him that he now knew Edwards was an imposter.
Forced by approaching motherhood to resume the dress of a woman, Kitty Clover was sent back to theUnited States on the ship Ontario, listed as servant of Colonel J. S. Winfree and lady in January 1841.
Edwards had provided ample funds for her to live well until he could join her, and had entrusted them to Winfree. Edwards' friends were not all honest, however, and Winfree kept the money for himself.
Without funds, Kitty entered the charity ward ofBellevue Hospital inNew York, where she gave girth to a child. Arriving several months later, Edwards located Kitty through Winfree. He stayed inNew York before moving toPhiladelphia.
Kitty followed him in a short time, and she and the child were installed with a Negro family there.
Despite the loyalty and devotion she had always shown, it was Kitty's presence inPhiladelphia which was to prove the downfall of Monroe Edwards. [The Facts,April 10, 1960]
Not the sort of person to gamble for small stakes, Monroe Edwards assumed the name of John P. Caldwell during his operation inPhiladelphia and worked up reams of papers attesting to his ownership of a large and prosperous plantation.
In this way he obtained a loan of $25,119.52, and when the financial geniuses found they had been led down the garden path, they offered rewards totaling $25,000 for the apprehension of the responsible parties.
Monroe's partner in the deal was Alexander Powell, and what with the reward and the cry over their activities, the two decided a trip was in order. Edwards suggested that Powell travel to Europe, and he would visit his old stomping ground ofNew Orleans. Powell left forBoston to get a ship for Europe, and Edwards decided to pay a short visit toNew York before heading south.
On the day Powell's boat was due to sail, Monroe wrote an anonymous letter to the New York office of the bankers from whom he had obtained the generous loan, suggesting that they might be interested in Alexander Powell and listing the name of his boat.
He thought the boat would have already sailed, and this would throw police well off his own track. To his consternation, however, he learned that departure of Powell's boat had delayed. Quickly he sent a second anonymous letter to the bankers, cautioning them that the first was a mistake and that Powell was actually a wealthy and influential person and should not be bothered.
The authorities were suspicious enough to arrest Powell, anyway. Confronted with the two letters, Powell recognized his partner's handwriting, and "squealed" loud and long concerning Edwards' part in the swindle.
Though they knew who they were looking for, authorities had little or no idea of where to look.Monroe had leftNew York immediately after mailing the second letter, returning toPhiladelphia to provisions for Kitty and himself to leave forNew Orleans.
With an infant to care for, Kitty could not travel as fast as would be necessary forMonroe, so he planned to leave cash for her needs and have her join him later. Through a friend, he attempted to deposit $500 for her in a local bank, but the banker wanted no such small account with an ignorant black girl. Edwards decided to wait one more day and try to make arrangements with another bank.
The delay cost him his freedom. The next morning officers appeared to arrest him. They also arrested Kitty Clover because of the attempted deposit, but later released her when they learned of her involvement with Edwards and the fact that she was a slave. A search of Edwards' trunks revealed $43,600.
Edwards knew good attorneys were his one hope. He hired George M. Dallas, one time mayor ofPhiladelphia and later a vice president of theUnited States. AtDallas' suggestion, Josiah Randall and Henry D. Gilpin, formerly a United States District Attorney, were also employed to defend Edwards. Still later he retained U.S. Senator J. J. Crittenden and Congressman Thomas F. Marshall, both ofKentucky and several other attorneys.
Edwards was sent to the Tombs, a jail inNew York, to await trial. Still attempting to outwit authorities, he hired a visitor to slip his name on the registers of the Waverly and Northern Hotels inNew York City and in a hotel inAlbany.
He hoped this would provide an alibi, and had his brother, Ashmore Edwards, check the registers to be certain his name appeared on the proper dates.
The trial created a sensation. An issue of the National Gazette shortly afterward reported the following:
"Long before the hour appointed for opening of the court, the room was crowded to suffocation, and those who could not obtain admission were choking up the aisles and buzzing in loitering bands about the lower dormitories of the great halls. Now and then a policeman or two would cut a passage for a shining train of ladies, but no sooner had they glided past that the sweaty crowd closed in upon their wake, like the press of turbid waters after the pile of soft white foam that curls over on the wounded wave.
Their description might be a little poetic by modern standards, but there is no doubt the hall was crowded. The experienced Edwards even had his pocket picked, losing about $200.
The case began by Congressman Marshall challenging Colonel Webb, the editor of the Courier and Enquirer, to a duel. That challenge was answered by Webb's jumping to his feet and accepting before the judge could restore order.
The challenge arose from a statement in Webb's paper thatMarshall had left his seat in Congress "to advocate the cause of the most notorious swindler in theUnited States."
Despite the manufactured evidence of the hotel registrations, the jury found Edwards guilty, and he was sent back to the Tombs to await his sentence.
Congressman Marshall and Colonel Webb fought the much publicized duel, in which Webb received a minor wound andMarshall went unscathed. Ironically, Webb was imprisoned for the duel, having pleaded guilty to a charge of leaving the state to give or receive a challenge to fight a duel. He was placed in the Tombs butMarshall apparently used his official immunity to bypass repercussions for his part in the affair, for he went free. [The Facts, April 13, 1960]
Far fromTexas, Monroe Edwards had lost his fortune, friends, and freedom. While he languished in jail even the faithful Kitty Clover deserted him. Converted by a religious denomination of so-called saints, she was convinced that she would suffer damnation if she sent a single word of sympathy to her master. Edwards never heard from her after that time.
Unwilling to admit defeat, Edwards bribed the boy who brought his meals to furnish him with a crow-bar, a watch-spring, a small package of sleeping potion, some fine glazed gun powder and a ball of cord. Somehow the plan was discovered and authorities confiscated the materials.
TheTexas colonel's stock dropped to it lowest point to date in October, 1842, when Judge Kent sentenced Edwards accompanying the usual sentence with a firmly worded opinion ofMonroe's reputation and activities.
Almost smirking, Edwards broke into the remarks saying, "Very complimentary indeed sir."
"Your remarks, sir," said the judge coldly, "make no difference in the allotted sentence. You are consigned to 10 years imprisonment in the state prison at Sing Sing; being five years on each conviction. In this the court goes to the extreme of the law. Had the law admitted of a longer term, the court would have imposed it on you-for, under the circumstances of the case, there can be no mitigation!"
About the time he was being shipped of to prison his personal effects were being sold at a sheriff's auction. The trunks were unpacked and bidders were offered a multitude of items.
Sold at the auction were such things as a Colt pistol, a pair of bullet moulds, a powder flask with powder and bullets, a seal with coat of arms, a gold watch and chain, a stomach pump, a money belt, a box of cologne, a bottle of hair dye, a box containing stamps and die, and a stamp lettered "Paid".
The wardrobe went, too including 6 coats, 8 vests, 14 pairs of pantaloons, 16 shirts, and one blue sash.
Despite being faced by all these adverse circumstances, Edwards was not the sort of person to give up hope. In prison he continued to scheme and plan, his thoughts now centering upon escape.
Convincing a prison agent that he still owned vast lands inTexas the agent procured a box like those used to move manufactured goods from the penitentiary to the outside world. Inside were provisions including biscuits, brandy, and water. There was also a latch inside to prevent accidental discovery, andMonroe was ready to be shipped outside with merchandise.
"When this note is found, Monroe Edwards will be no more," he wrote. A fellow prisoner planted the note, along with Edwards' coat and cap, on the prison wharf at the river. Obtaining permission to go from the shoe shop where he worked out into the prison yard, the friend was signaled. Then Edwards slipped into the box and latched it behind him as the friend raised a cry about a man having fallen into the river.
The river was dragged, but no body was found. Warden Angus McDuffie was no man's fool and had much experience with attempts at escape. He began a search of the prison. Dozens of times footsteps thudded past the box whereMonroe huddled, and finally a guard ordered the box opened.
Monroe was jerked out to await his punishment. It was not long in coming.
As described by the New York Herald, "He was placed on the whipping post, his back bared, and a strong athletic keeper selected who applied some 50 lashes with a cat-o-nine tails to his quivering flesh".
Remembrance of such a punishment might have deterred a less stubborn man, butMonroe was determined to escape. Again in 1847 he made careful plans, and again he was caught and whipped.
Shortly afterward he died-supposedly as a result of that beating-and was buried in the prison burial ground far from his nativeKentucky and farther still from his adoptedTexas.
Edwards had bought Chenango Plantation inBrazoria County for $35,000 in 1836, and despite the efforts of Christopher Dart, the partner he had swindled, Edwards had managed to sell it to W. D. C. Hall before beginning his prison term.
Dart died while the property was still in litigation, his wife becoming the plaintiff in the cases.
Now the property of General R. C. Kuldell of Houston, little remains of Edwards' tenure at Chenango except for the old sugar mill which has been designated by the Library of Congress in Washington, D. C., as one of the old buildings which should be preserved.
Though they have re-roofed it to prevent further damage, the Kuldells have not attempted to restore the sugar mill, feeling it should be left as it is.
Numerous barns and sheds and several houses have been built at Chenango. In addition the Kuldells recently constructed a small but lovely summer home, rustic in style, the use of a great deal of glass providing a perfect view of the lake nearby.
Registered cattle graze where once fields of sugar cane were worked by slaves smuggled fromCuba. At long last Chenango seems about to overcome its early history. [The Facts,April 17, 1960]
Ben C. Stuart Papers
Bass, Jr., Feris A. and Brunson, B. R., Fragile Empires: The Texas Correspondence of Samuel Swartwout and James Morgan 1836-1856, Shoal Creek Publishers, Inc., Austin, Texas, 1978
Champomier, P. A., Statement of the Sugar Crop Made inLouisiana 1849-59, With an Appendix. Cook, Young and Company,New Orleans,Louisiana [n.d.]
Harris, Mrs. Dilue, "The Reminiscences of Mrs. Dilue Harris I", Southwestern Historical Quarterly Online, Volume 004 Number 2
Looscan, Adele B., "MRS. MARY JANE BRISCOE", Volume 7, Number 1, Southwestern Historical Quarterly Online, Page 65-71.
Platter, A. A., Educational, Social, and Economic Characteristics of the Plantation Culture of Brazoria County, Texas, Doctorial Dissertation, University of Houston, Houston, Texas, 1961