Sugar Land, Texas
---
Sugar Land Railroad, Destination Duke, Texas
---
Sugar Land Marker located across from Imperial Sugar [1964]
Founded 1853. Named by B. F. Terry and W. J. Kyle for sugar mill and plantation bought on their return with fortunes from California Gold Rush. The town's founders organized Terry's Texas Rangers at the start of the Civil War. Farming market. Site of Texas' only cane sugar refinery. Texas prison farms are located nearby.
Read more
Benjamin Franklin Terry
---
Civil War Captain W. G. Nolan's [card #50437372] Co. Mtd. Vola,. Local Defense [Co. A, Fort Bend Rangers]. The Muster Roll list shows 33 names on May 27, 1863, Sugar Land, Fort Bend County. There is not a record that the Company received arms.
---
---
See Hodge's Bend, Texas for US mail 1846 to 1868
SUGAR LAND, TEXAS-POSTMASTERS [1]
Crump, John W., 16 Dec 1858
Dunlavy, Henry, 24 Mar 1859
Dunlevey, H., 21 Feb 1862 (CSA)
Nolan, Frank M., 5 Feb 1866
Gilbert, Stephen, 11 Jan 1872
Discontinued 1 Oct 1873
(Re-established) Pettus, Wm. G., 9 Mar 1874
Pettus, Wm. G., 9 Mar 1874
Dunlevy, Nelson B., 7 Oct 1875
Bass, Allen G., 17 Mar 1879
Lomox, Eugene B., 25 Jan 1881
Ellis, Littlebery A., 8 Dec 1885
Cg'd to SARTARTIA, 18 Jan 1886
---
SUGARLAND, TEXAS-POSTMASTERS [2]
Morrow, Walter K., 28 Feb 1890 (C)
Brahan, Haywood, 13 Feb 1892
Morrow, Walter K., 23 Nov 1897
Cunningham, Ed. B., 7 Aug 1899
Henry, Brooke T., 14 Feb 1900
Dolfino, Paul, 26 Sep 1905
Brahan, Robt. W., 28 Jly 1906
Truly, Kuwa V., 28 Aug 1908
Crittenden, Wilard R., 14 Mar 1910
Watson, Annie, 27 Aug 1913
Iiams, Nena M., 6 Jan 1927 (Acting postmaster)
---
The Imperial Sugar Refinery Marker located Hwy. 90-A at Imperial Sugar [1978]
Stephen F. Austin's colonists brought sugar cane to Fort Bend County in the 1820s. The Sugar Land area was once part of Oakland Plantation, where Nathaniel (1800-84) and Matthew Williams (1805-52) planted sugar cane about 1840. They began processing the cane in 1843 using a horse-powered mill and open-air cooking kettles. In 1853 the plantation and mill were purchased by William J. Kyle (1803-64) and Benjamin F. Terry (1821-61). They improved the mill and promoted a railroad for the area, which they named Sugar Land. Terry later helped organize the famed Confederate cavalry unit, Terry's Texas Rangers, and was killed in the Civil War (1861-65). After the war, the operation was sold to Edward H. Cunningham (1835-1912), who expanded the sugar mill into a refinery. W. T. Eldridge (1862-1932) and Galveston businessman I. H. Kempner, Sr. (1873-1967) purchased the refinery in 1907. They began importing raw sugar to operate the refinery year-round because local cane was available only seasonally and in decreasing quantities in the early 1900s. Named by Kempner for the Imperial Hotel in New York City, the Imperial Sugar Company and the City of Sugar Land have grown steadily. During the 1970s, the Imperial Sugar Company produced more than three million pounds of refined cane sugar daily.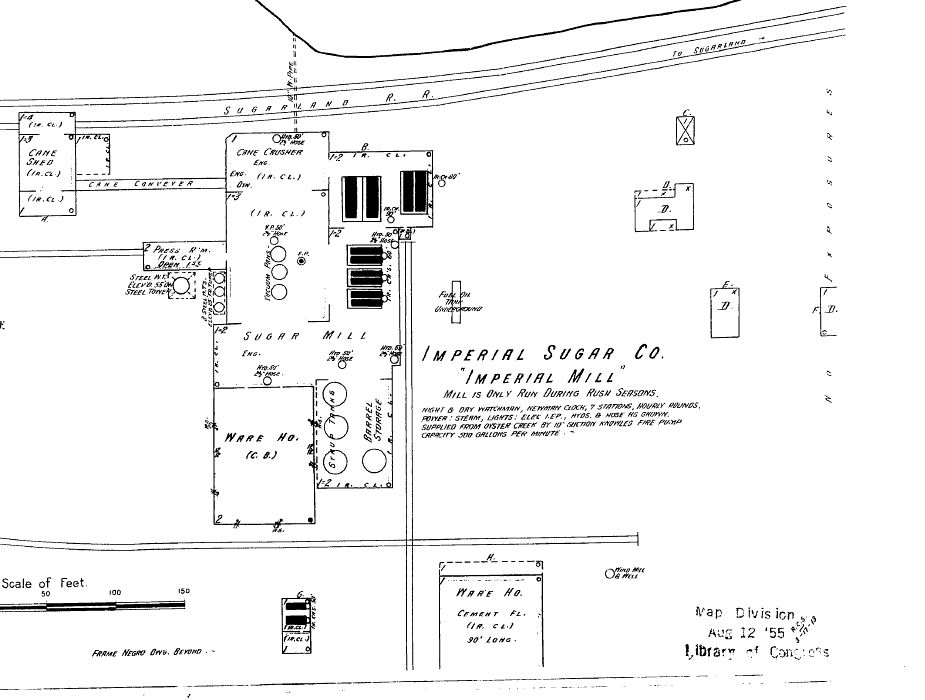 ---
Sugar Land Auditorium Marker located at 300 Lakeview Dr. [1992]
Built in 1917, this auditorium is the oldest public building still in use in Sugar Land. It was designed in the mission revival style by Imperial Sugar Company engineer M. R. Wood as the central structure in a crescent-shaped eleven-building school complex. A vital community asset, it has been used for cinema and stage productions, rooftop socials, graduation ceremonies, and once housed the superintendent's office downstairs and a janitor's apartment upstairs.
---
Sugar Land Independent School District No. 17
Marker located at 1st and Lakeview Rd. (Lakeview Elementary School) [1991]
A public school was established as early as 1912 for families moving to the company town of Sugar Land. In 1918, the State Legislature created Sugar Land Independent School District No. 17, with the requirement that at least two of the seven board members be women. Mary Anna Collins Woods served as the first school superintendent. Sugar company engineer M. R. Wood designed the school and served as school board president. In 1959 the district was merged with schools in Missouri City and Stafford to form the Fort Bend Independent School District.
---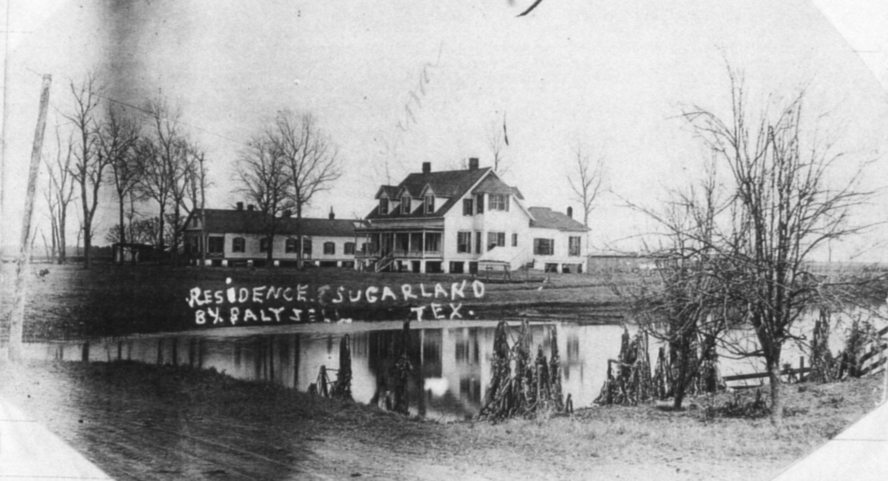 Imperial Inn of Sugar Land. Date unknown.
---
Hodge's Bend Cemetery Located near Richmond-Gaines Rd. & Voss Rd. [1975]
A veteran of "Swamp Fox" Francis Marion's South Carolina brigade during the American Revolution, Alexander Hodge (b. 1760) brought his family to Texas in 1825. Hodge was prominent among the "Old Three Hundred" settlers; his sons fought in the Texas Revolution. His 1828 land grant from Stephen F. Austin, named Hodge's Bend, included the site for this cemetery. First grave here was that of his wife Ruth, who died in 1831. Hodge was buried here in 1836. The cemetery contains about 75 graves, including those of Hodge's descendants and other early settlers in the area. The last burial here was in 1942. Alexander Hodge
---
Texas Prison System Central State Farm Main Building
Located in Sugar Land, 1 Circle Drive [2002]
Texas Prison System Central State Farm Main Building Central State Farm's roots trace to the late 1870s, when the original 5235 acres of the sugar plantation here were worked by convict labor. In the 19th and early 20th centuries, public sentiment largely supported a self-sustaining prison system, with no state funds for facilities or operations. Beginning in 1878, Edward H. Cunningham and Littleberry A. Ellis leased prison labor from the state. They housed prisoners here on a sugarcane plantation. Ellis' land, which came to be called "Sartartia," developed with the construction of an onsite mill named the Imperial Mill. Despite harsh living conditions at such farm camps around Texas, the leasing program continued until the 1910s. The plantation and mill operation at this site were bought in 1907 by the Imperial Sugar Company; the state bought the plantation in 1908 and renamed it Imperial State Prison Farm. The Texas Legislature agreed in the late 1920s to economic reform measures that initiated prison industrial operations, led to the classification of convicts based on rehabilitative theory and improved convict living conditions. In 1930, construction on the Central State Prison Farm facilities began at this site. The Austin firm of Gieseke and Harris designed the new buildings; Bertram Gieseke's father, noted architecture professor F.E. Gieseke, served as a consultant on materials and techniques, which centered on poured, reinforced concrete technology. The main building, comprised of administrative offices and dormitories, was completed in 1932 as the first modernized structure in the Texas prison system. The Art Moderne design features stepped pilasters, chamfered corners, a square tower with pyramidal roof, and metal casement windows. Today, it stands as a reminder of 20th-century prison reforms.
---
The following newspaper articales appear in order by date they were published.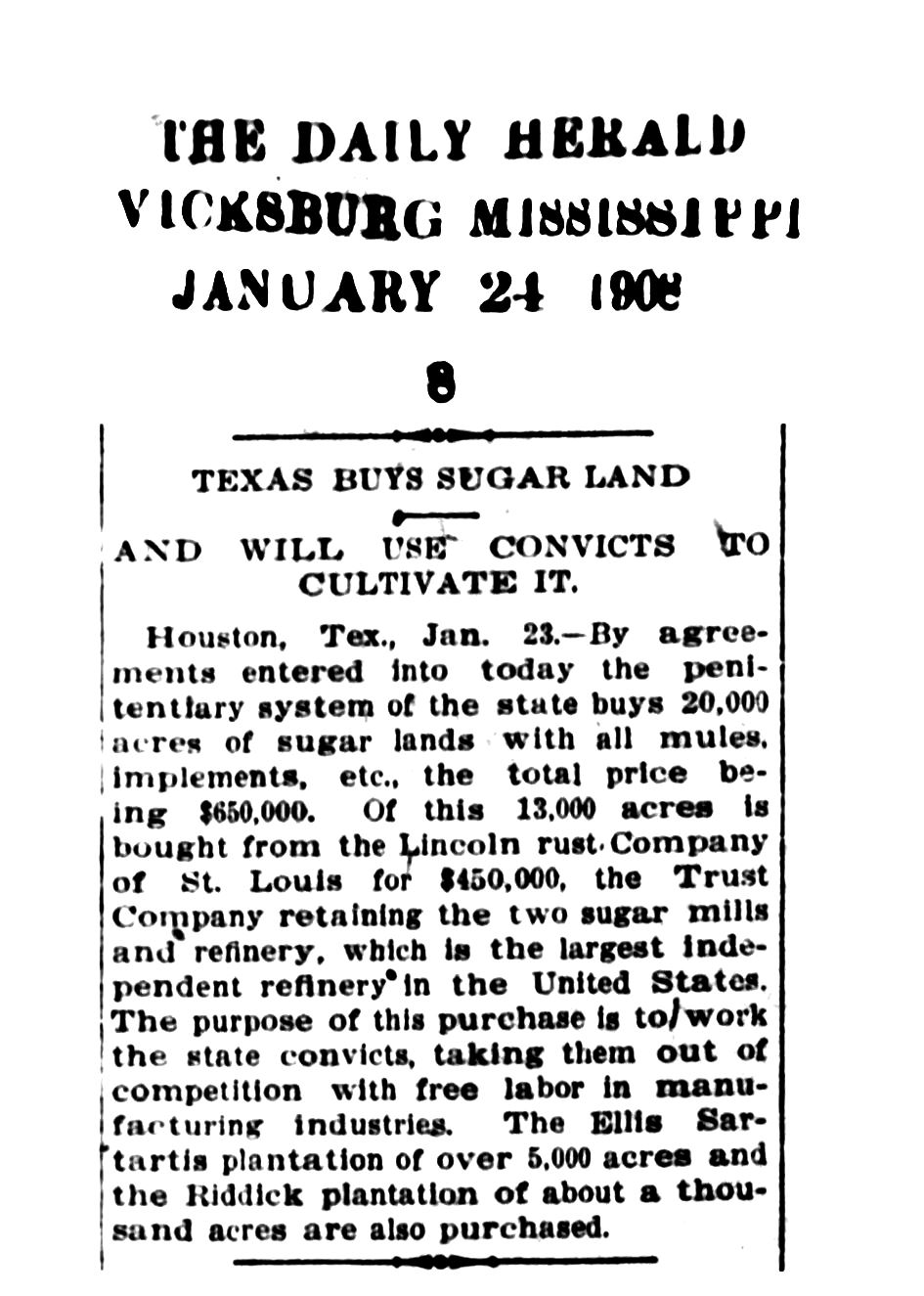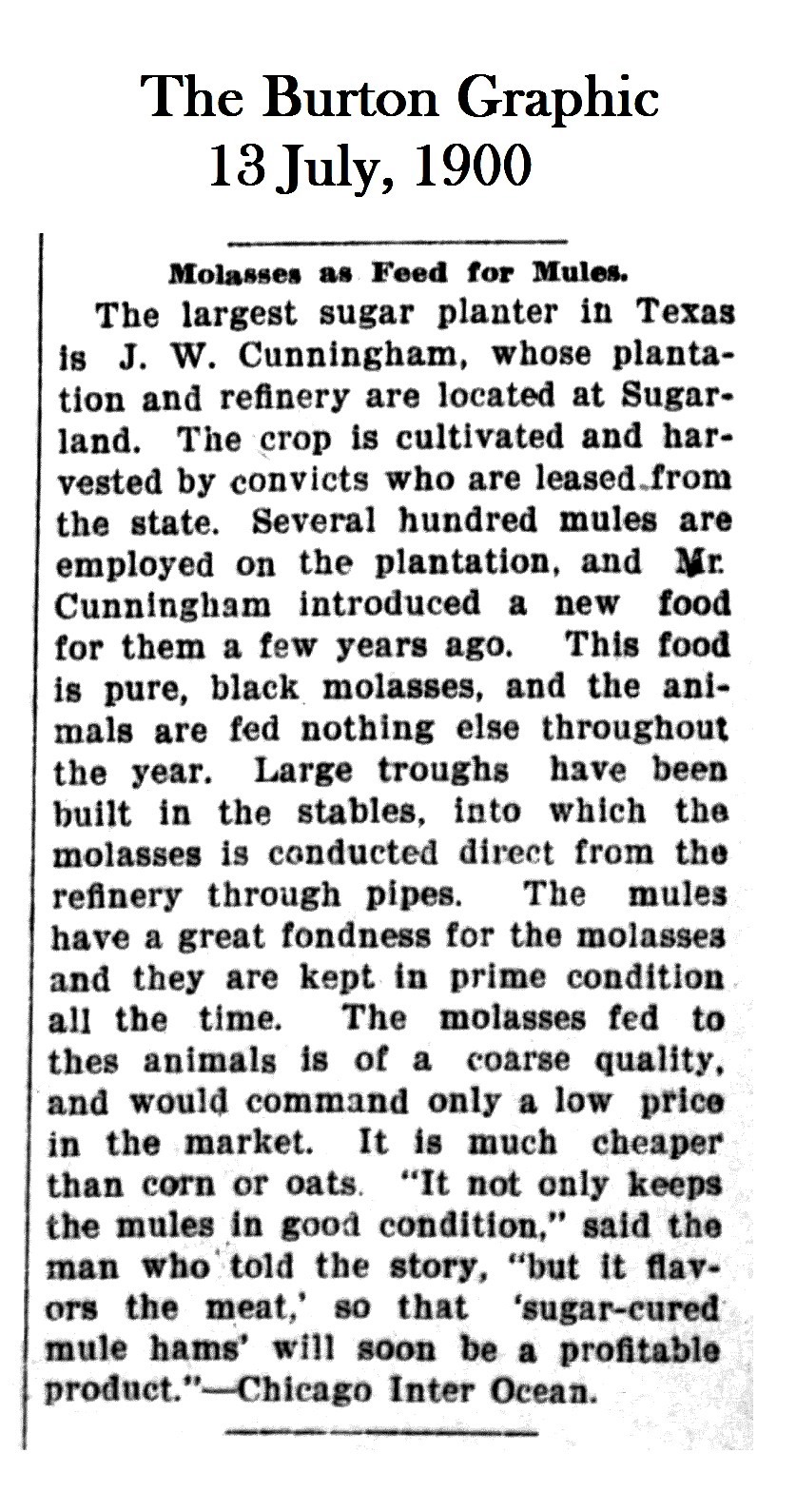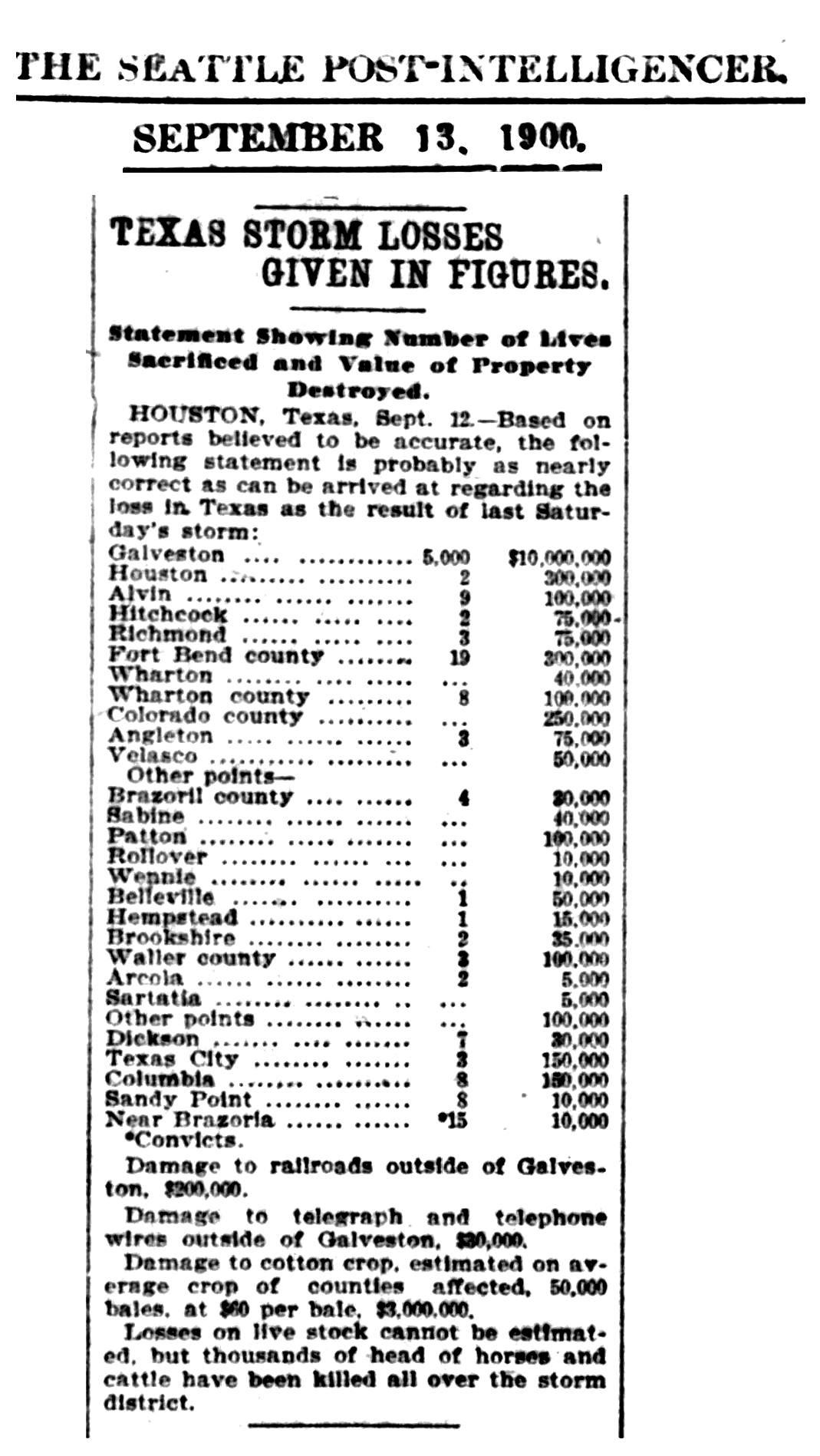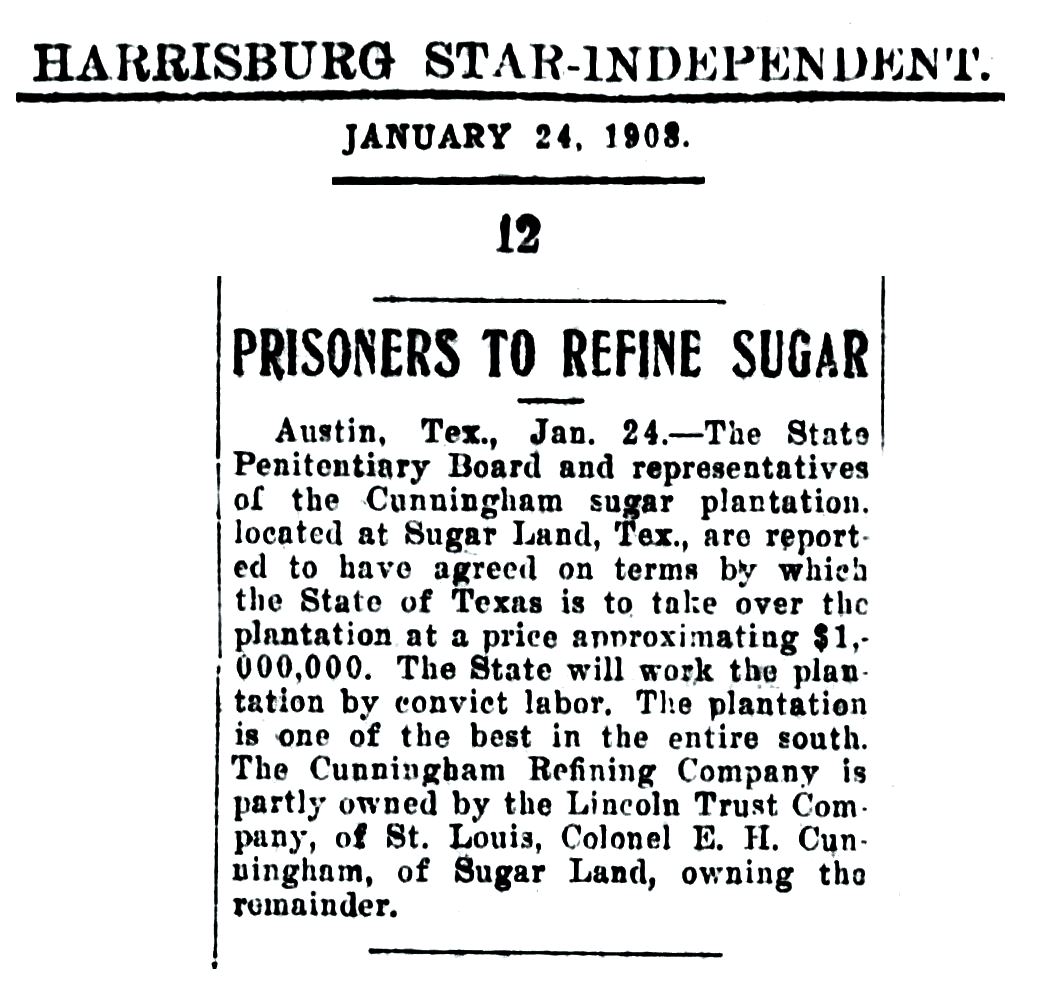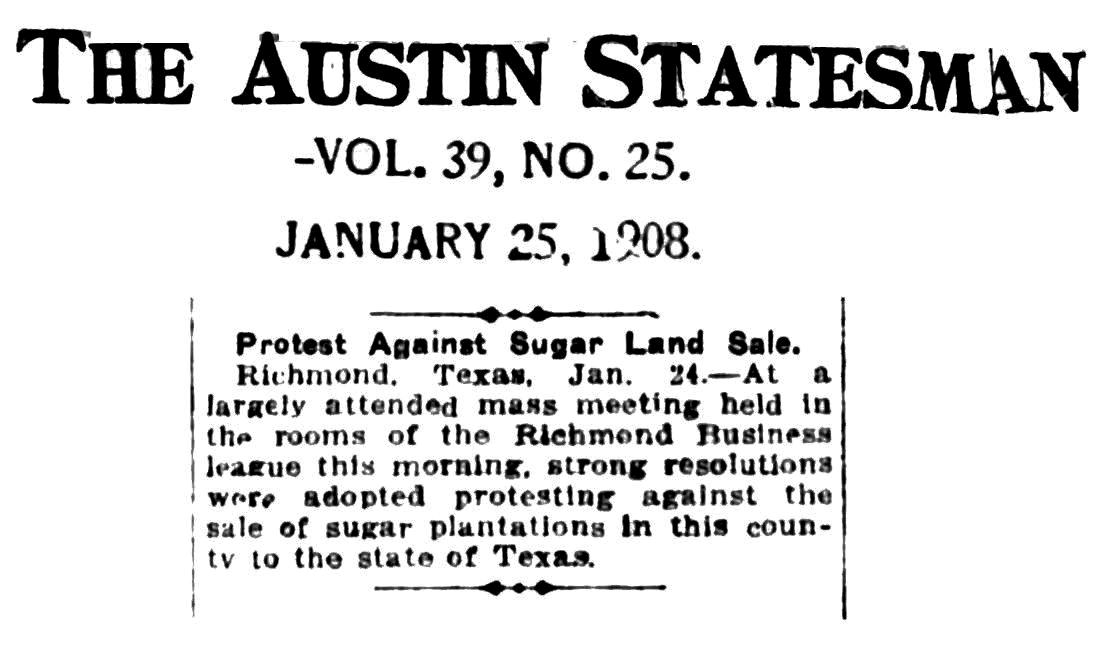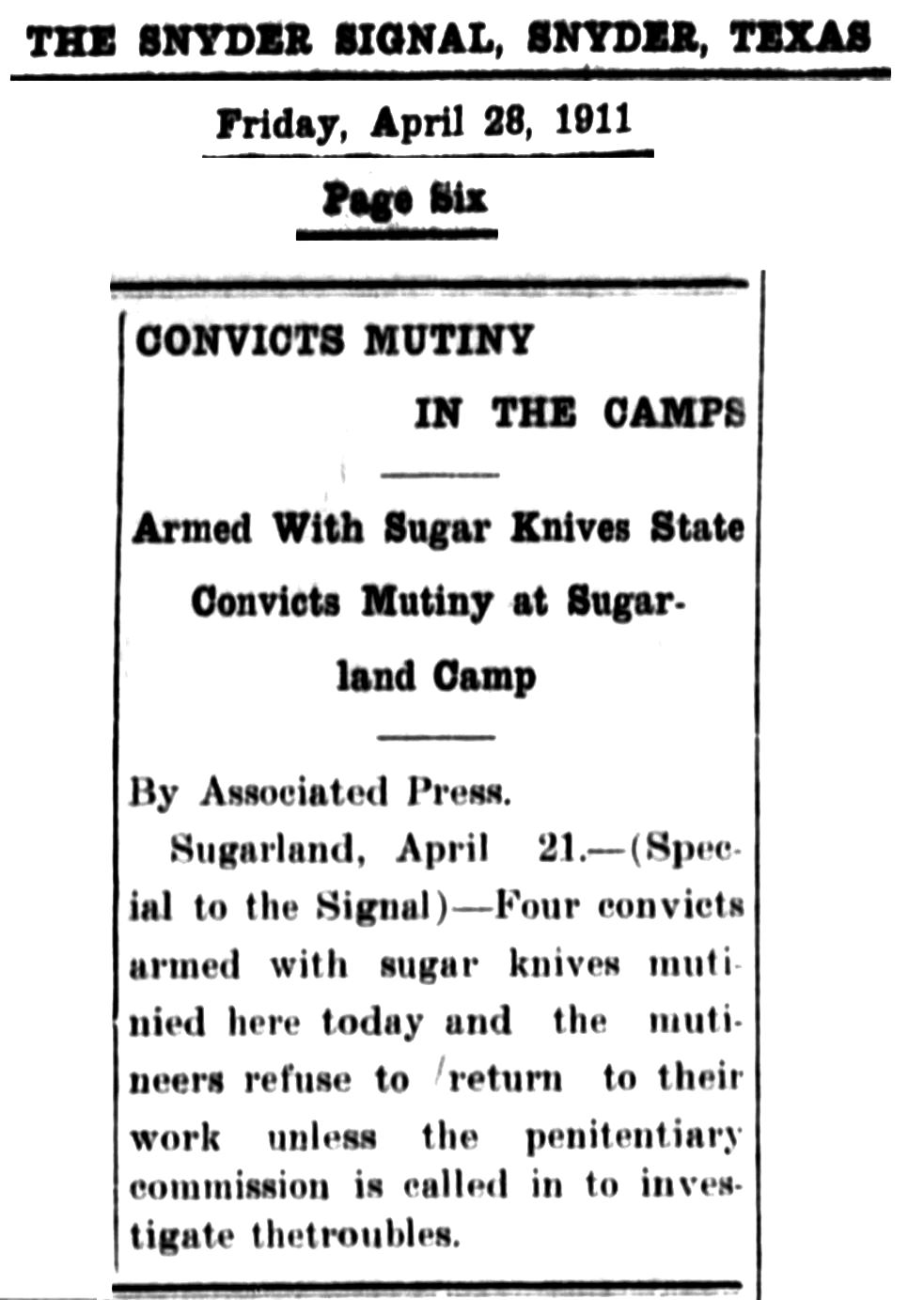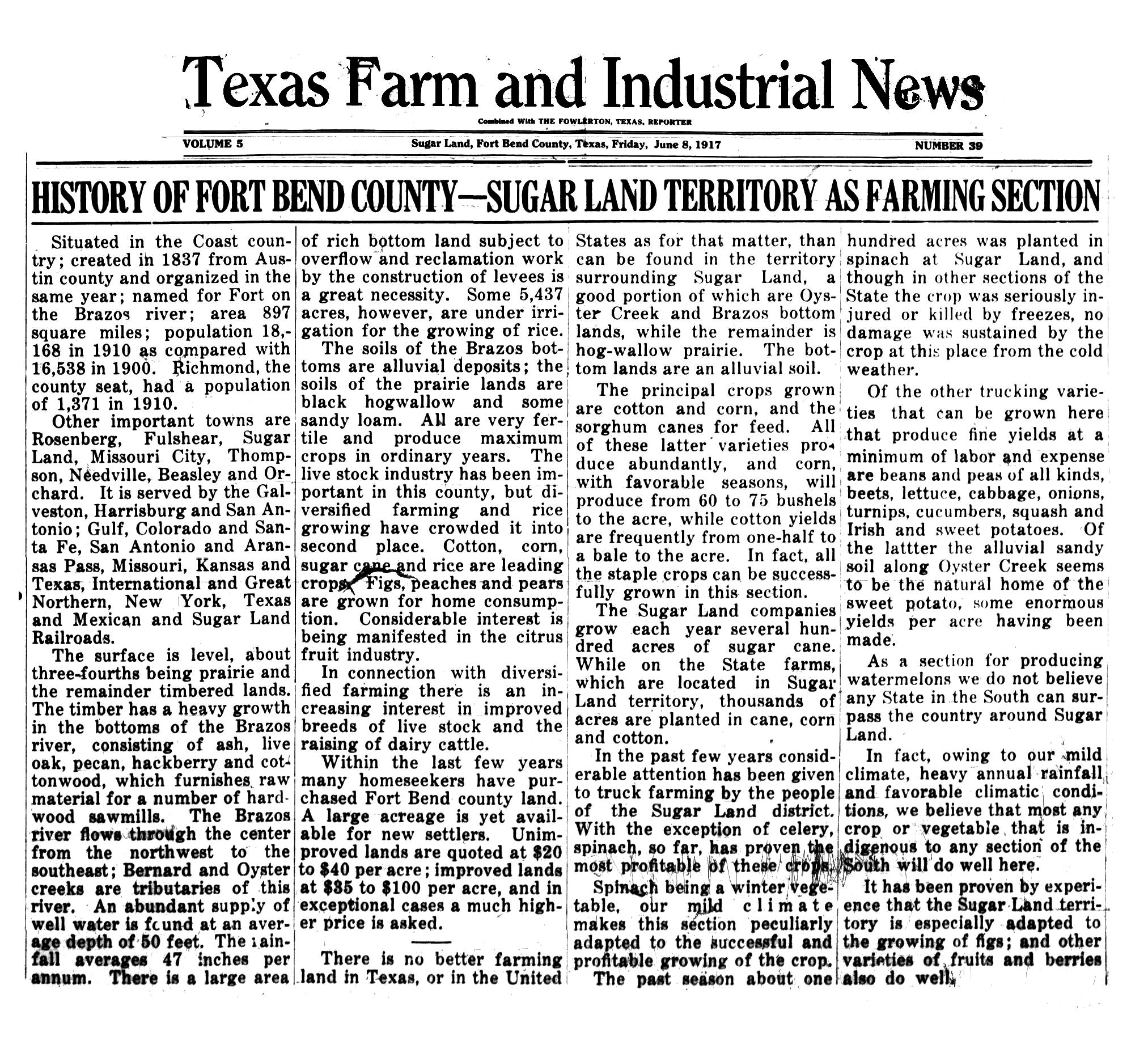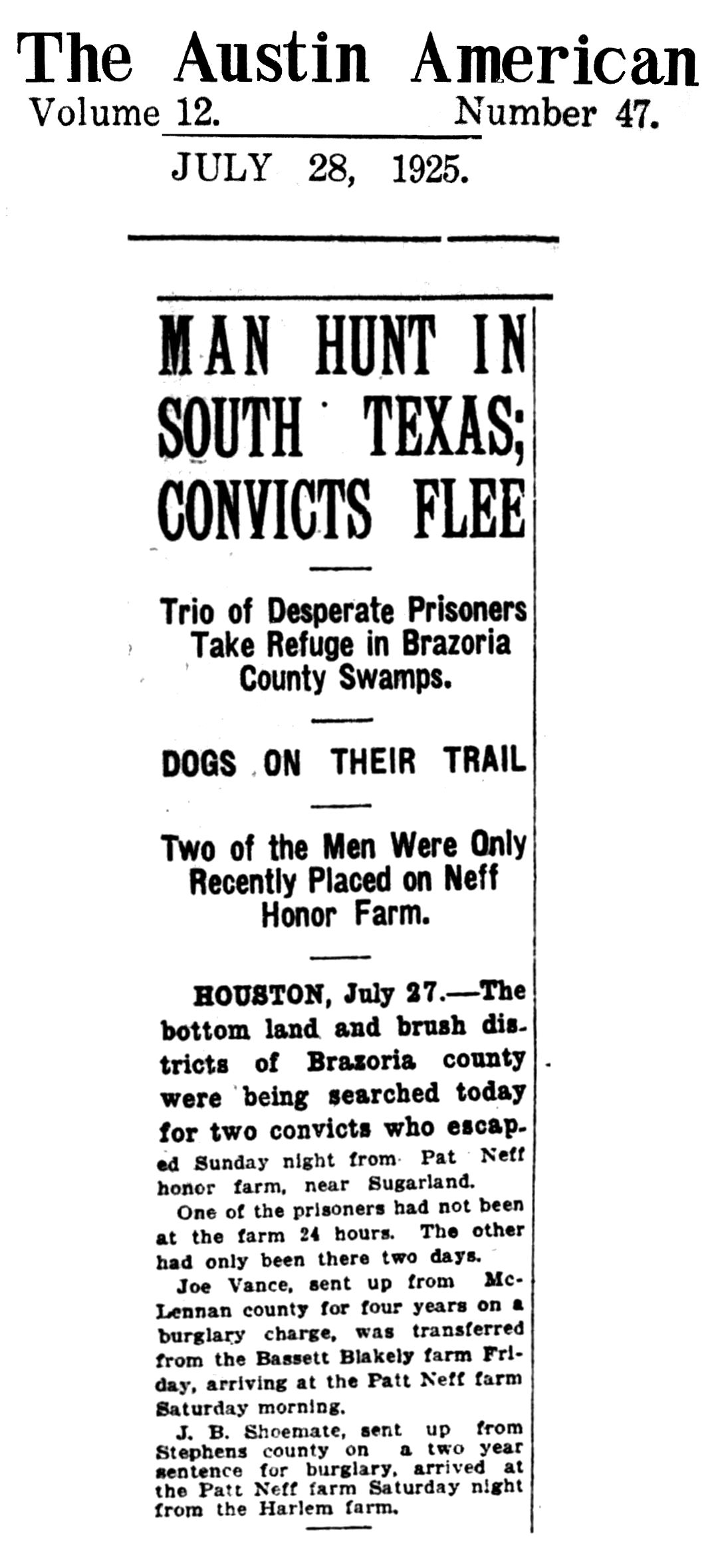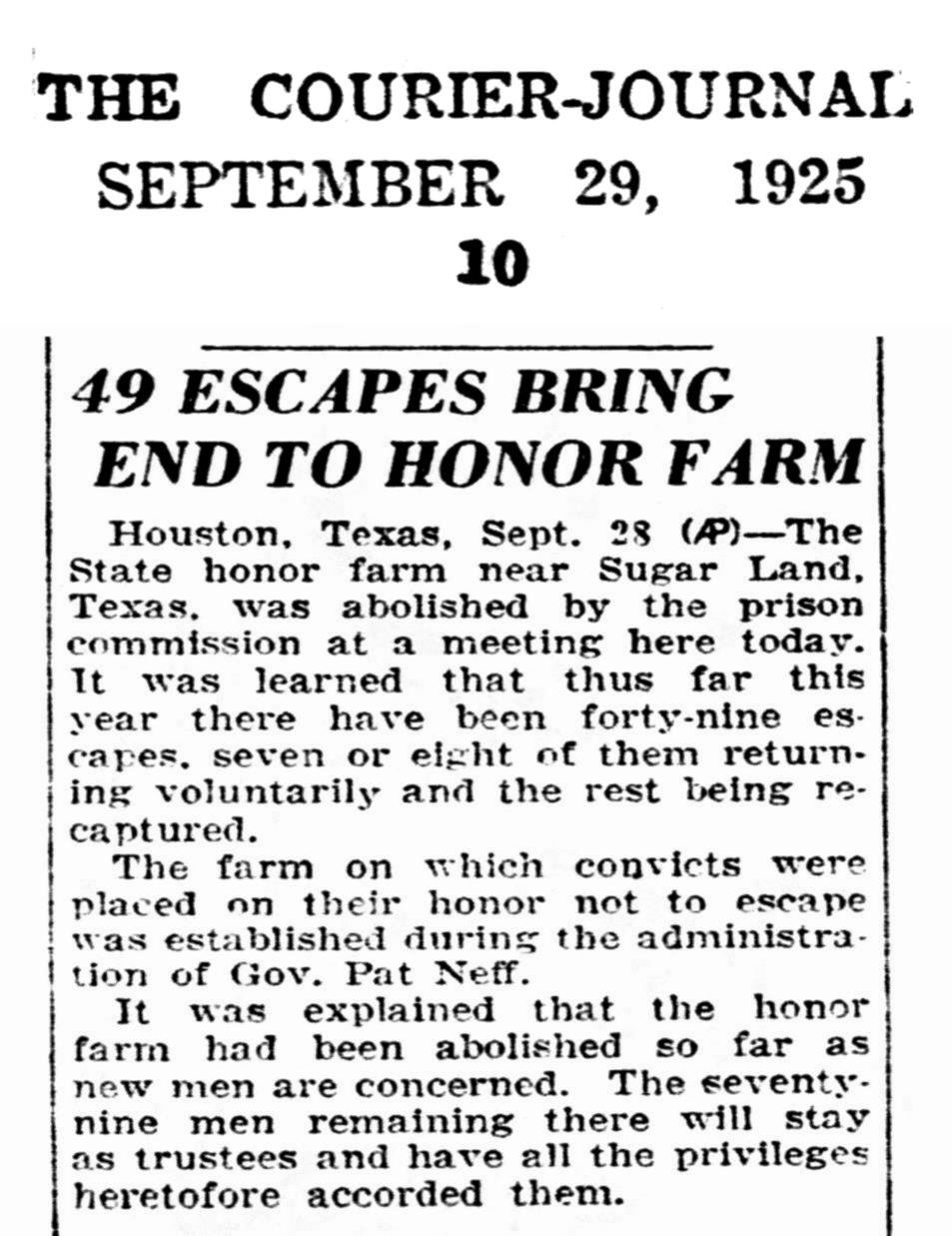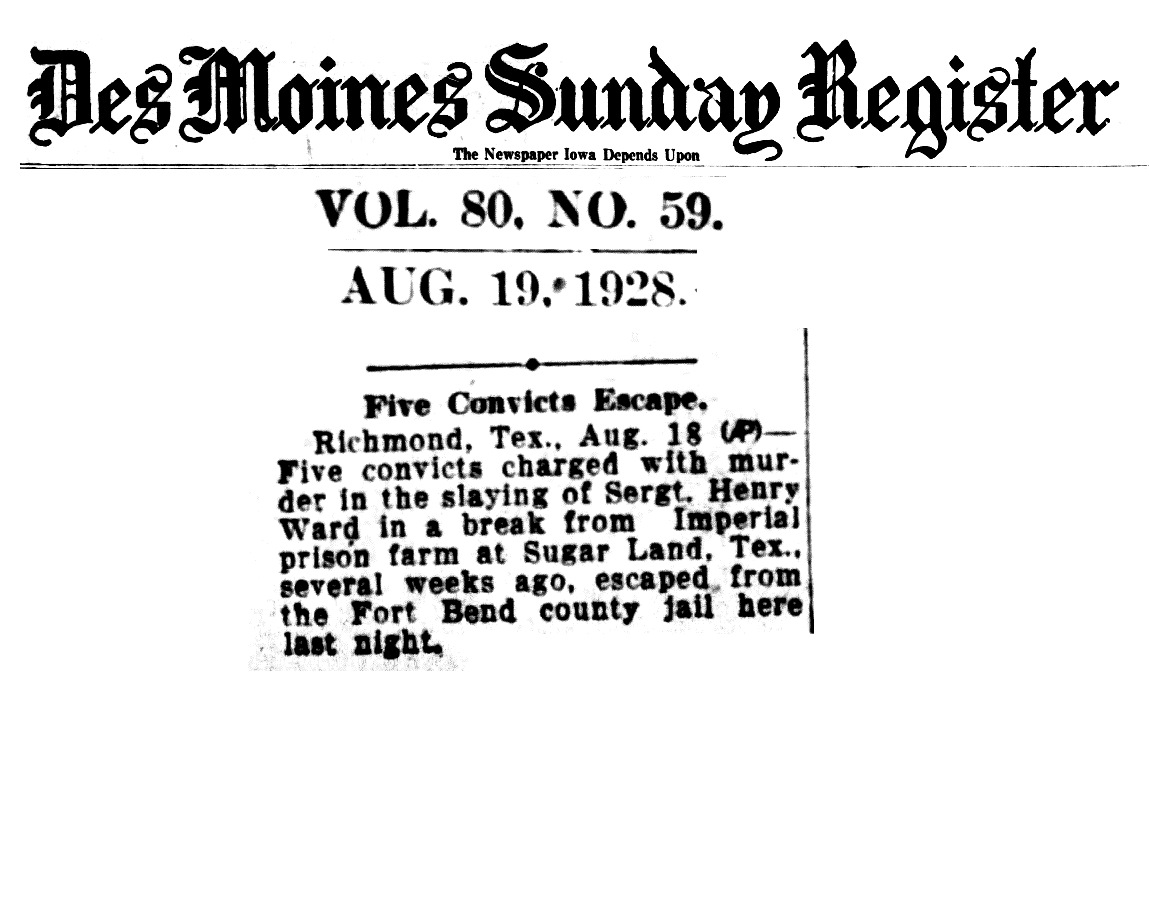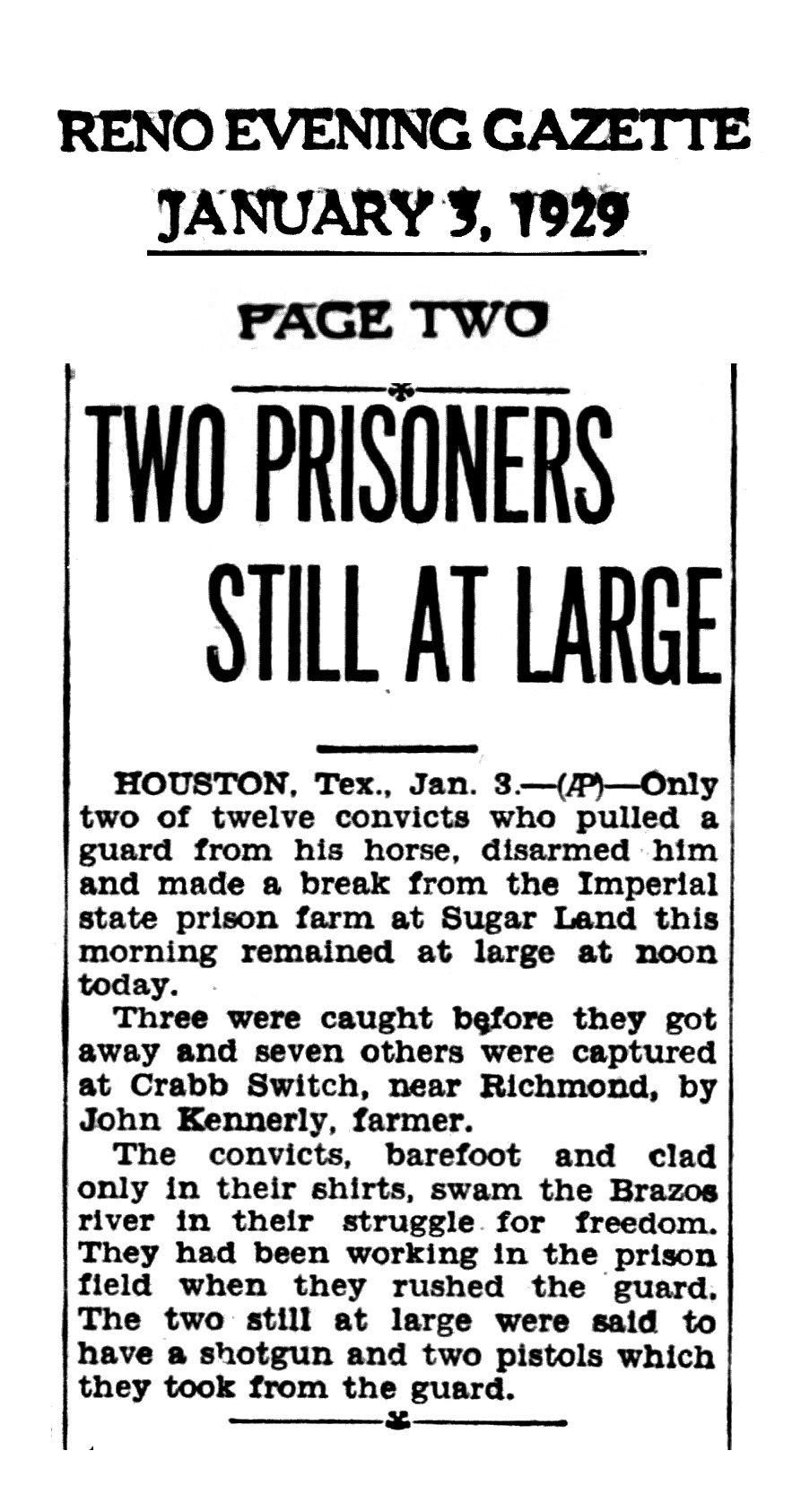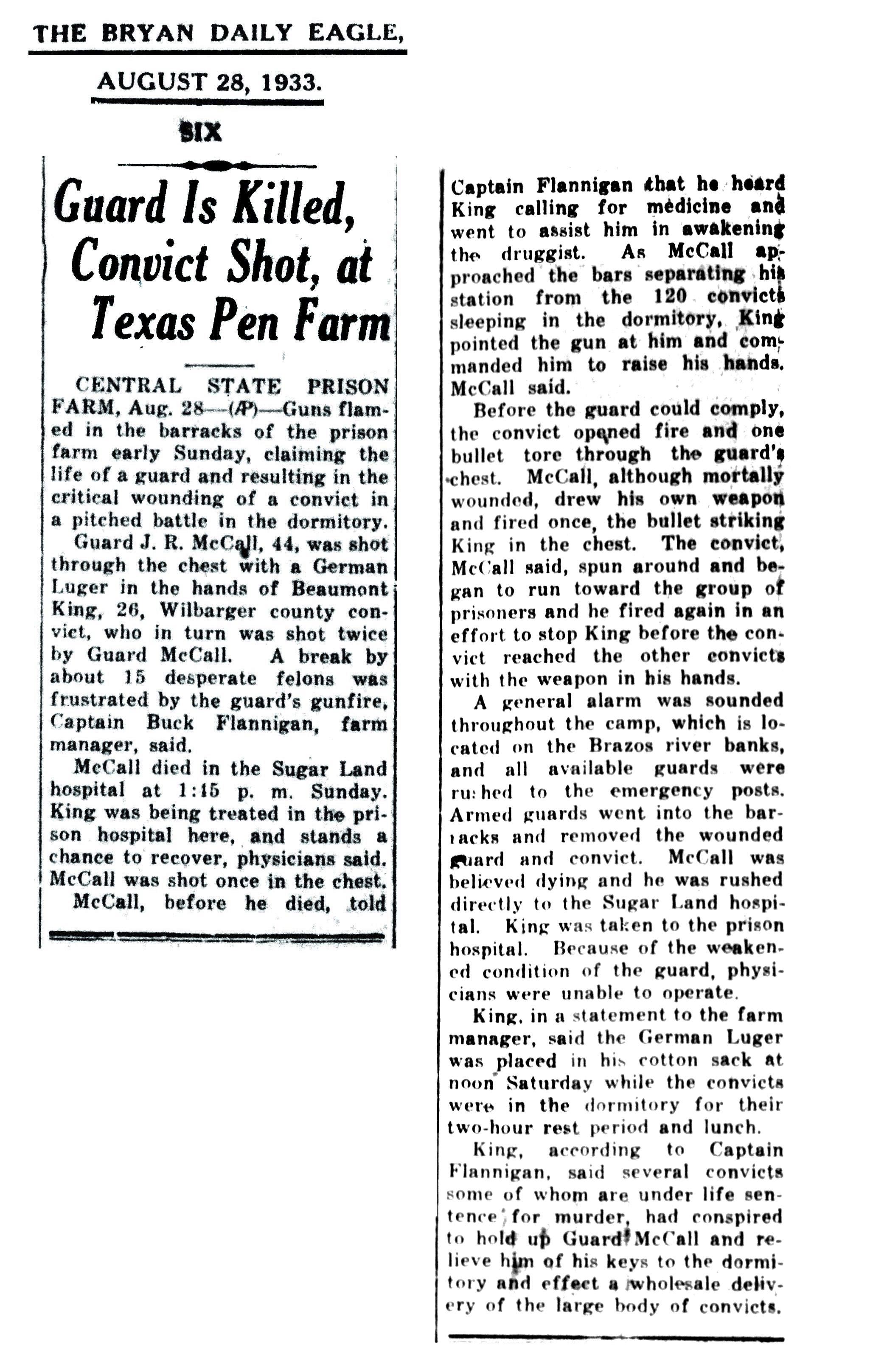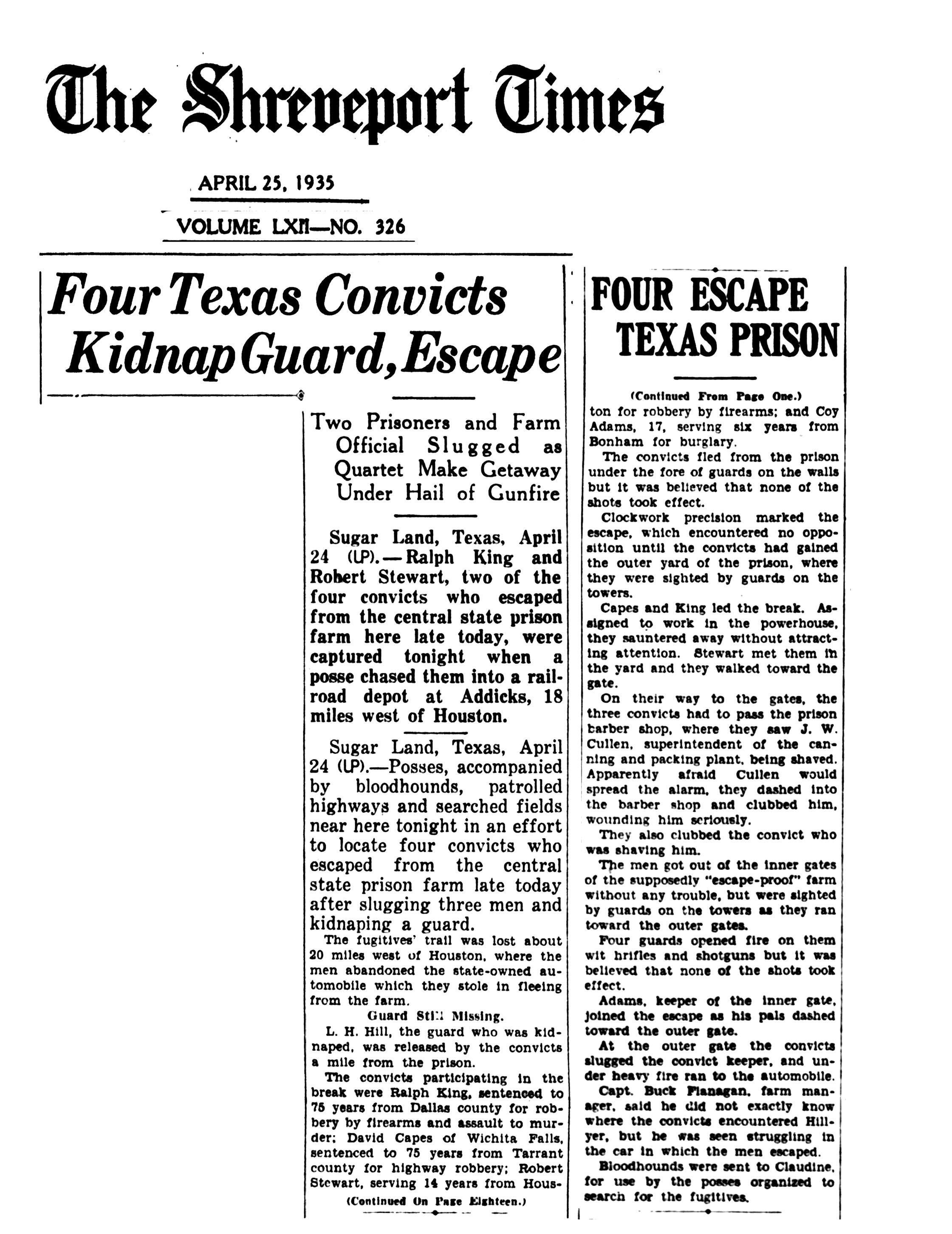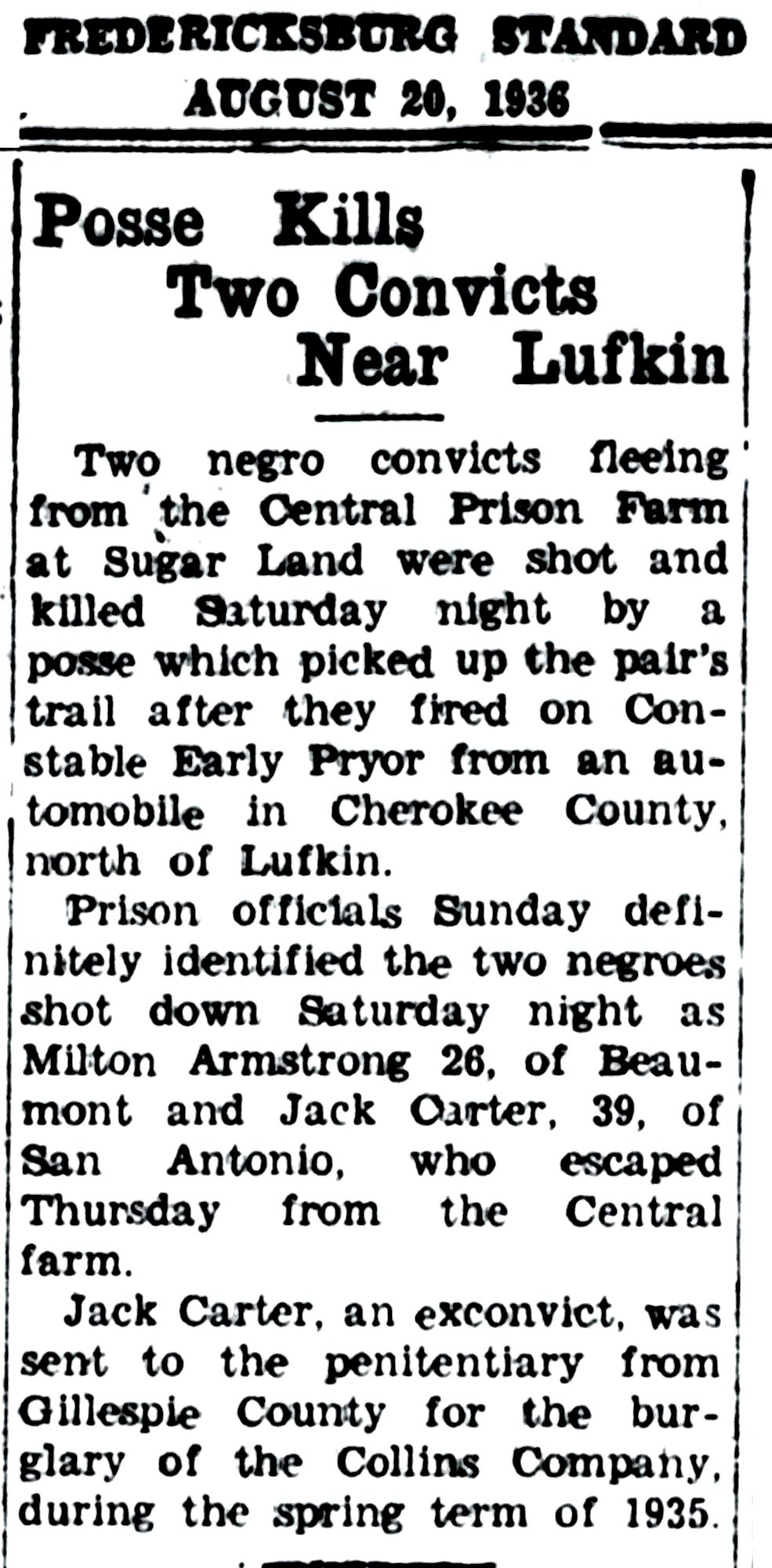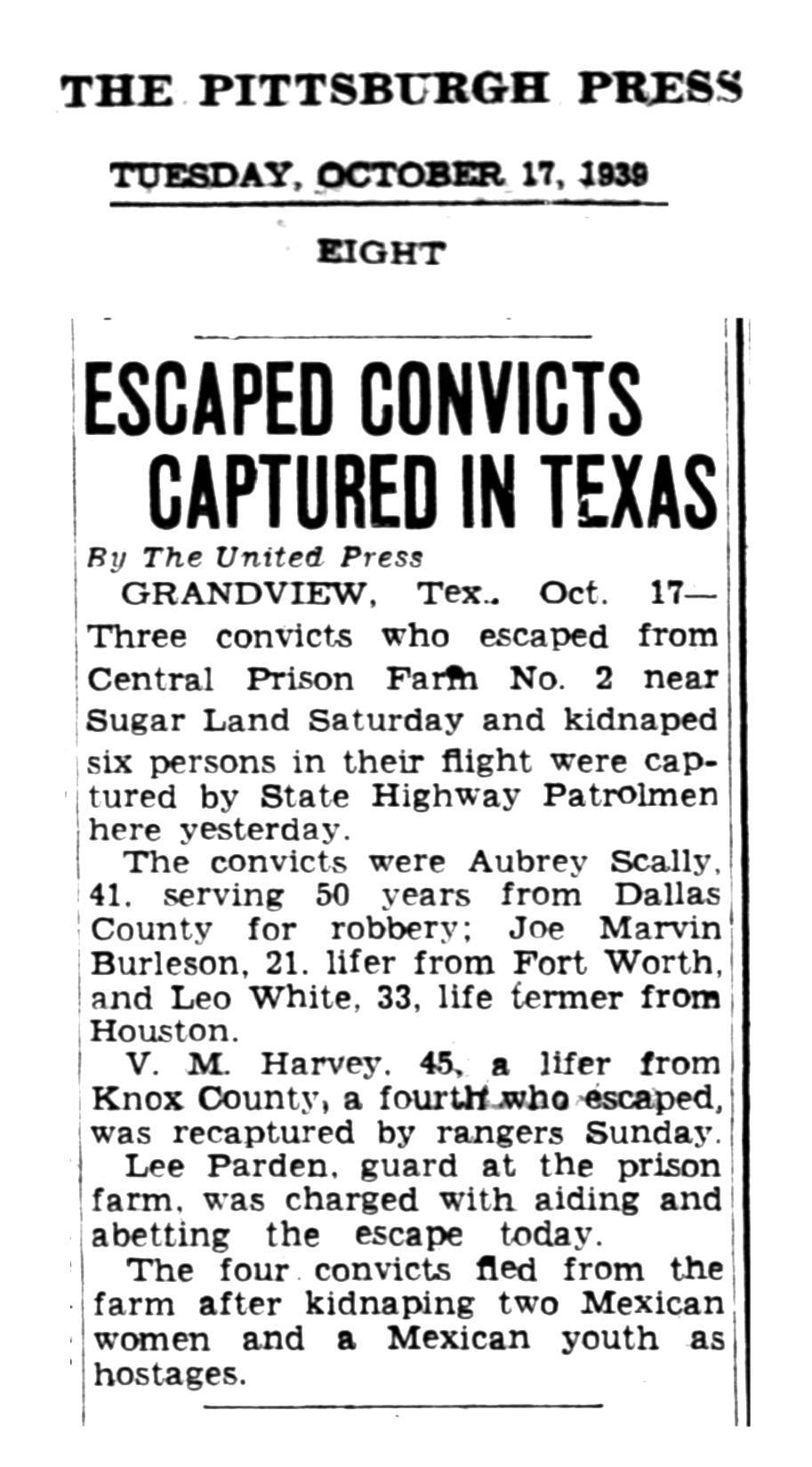 ---